Juki presents eco-friendly semi-dry-head machines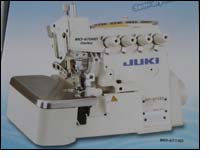 JUKI India believes that we can work as business partners in progress with the Indian garment industry to help in technology adoption and maintenance, putting India on a growth Path.

These are tough times for the entire economy in the country, especially for the garment industry, In India, at times like this, optimal productivity is key to survival. However, lack of technical know-how and suboptimal utilisation of machinery are the ground realities. This due to the belief that there are enough people in India to support manufacturing.

Now the scenario has changed:
Garment Industry is facing a crisis due to the global slowdown process. Finding solutions to cut cost! downsizing labour without compromising on quality and to ensure optimum level of production retain the buyers are emerging as the prime tasks.

Now, it's time for Juki to work with the customer to improve their skills. Juki is always committed to quality it's a proven evident being Global leader in sewn products with wide rage of models now all set give added value products too.

Presenting Eco friendly semi-Dry Head Machines:
A new & innovative concept to give added value to the customer by avoiding oil stains and cleaning the sewn garment has become a nurturing job, now, Juki is all set to give an added value product "Semi Dry Head machines" which saves time, saves money and to achieve their delivery schedule on time, most of the cases at the nth hour of shipment customer identify the oil stains more generally, some times penalize them to air fright at their cost, cause big burdens, here is were our new concept enable the customer to avoid nth hour rush to meet their commitment.

Juki India committed to service after sales. At Tirupur we are proud to present our range of eco - friendly Semi Dry Head machines for Knit Garments to enable the customer have a trial before investing in the machine. They can feel the seam quality, and know the productivity efficiency with Juki higher end technology. Which is why, we all are here...
At Eco-friendly, Semi Dry Head Exhibition 2009.

Juki- Triupur has showroom that offers services including maintenance of machines and guidance on the product for better application, thereby adding utility value. Therefore, we have established a strong technical support team in our show room in Tirupur, ably supported by Japanese technical head stationed in India; they will visit the customers and guide them on proper use of the machines and their maintenance. In addition, we will also conduct technical seminars for the industry as well as the students, as they are the future users of the technology.

JUKI is here to stay and grow. While our distributors and agents have helped us get a stronghold in the market, we expect our technical support team to establish us as business partners of our customers. This is a time for building relationships and growing together, and JUKI India's new conceptto look forward in this direction.