Pantzies with new textile materials to hit the market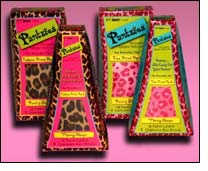 Hy-Jean Corp based in Laguna Beach, California, has launched a revolutionary new feminine hygiene product, called 'Pantzies,' which is the first ever 'designer panty liner' that is fashionable and functions better in many ways than other products in this category!

Pantzies are appealing to women of all ages because they are the first feminine hygiene products that are designed to be fashion forward as well as useful. This feminine hygiene product replaces the white cotton panty liners worn daily in underwear and other garments by women of ages ranging from 12-70. Nothing on the market can compare. Pantzies panty liners feature a colorfully printed silky fabric on one side and impermeable backing on the other. The proprietary fabric is patent pending.

With today's technologies and manufacturing processes, new textile materials have emerged that both hold the application of color when printed upon and are, at the same time safe for use against human skin. Such technologies as applied to fabrics have opened up a new variety of materials which are able to be used near sensitive areas on the body, where previously only cotton was accepted.

Pantizies fabric is treated with an anti-bacterial compound which is non-toxic, safe for use on humans and EPA approved and registered for use on textiles to be used as underwear. These compounds inhibit the growth of bacterial and fungal cells on the fabrics to which they are applied. This keeps the fabric more sanitary and bacteria free, as compared to untreated cotton, which alone can be a breeding ground for bacteria, especially when warm and moist. Such solutions also render the textiles more moisture wicking and reduce normal dry time when wet. Pantzies' fabrics are created to ensure that the wearer remains as clean and dry as possible, while at the same time protects the garment to which they are applied from unwanted stains and moisture.

Pantzies are the first and only panty liner made with high quality medical grade, water resistant, pressure sensitive, latex free adhesive that will stay put- even when worn in the water- making it the first ever feminine hygiene product to be effectively wearable in bathing suits and workout wear! The liner will stick to virtually every type of fabric so it can be used not only as a panty liner in women's underwear, but also as a panty 'substitute' in pants, jeans, pantyhose, tights, workout wear, leotards, bathing suits, and shorts.

Laura Stearn, founder of HY-Jean Corp. and creator of Pantzies, has had a fascinating and varied career with experience in fashion design, manufacturing, retail, fine art, styling, and television both in the U.S. and Europe. Unsatisfied with the lack of sophistication of feminine hygiene products for a long time, Stearn worked on inventing a quality cool, fun, and functional panty liner since 2003. Thus, in 2008, after many years of creating, designing, testing, samples, business plans and patent writing, Pantzies was born!