'Do U Speak Green' - Clothing with passion for environment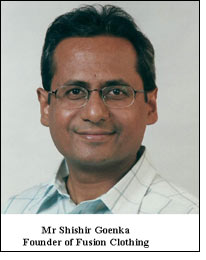 Shishir Goenka oozes oodles of passion when he speaks about the environment and if he could have his way, he could be donning all the people of the universe in eco-friendly clothing. Such is the obsession about the environment of this person who began his business of garment manufacturing 18 years back.

DUS'G or 'Do U Speak Green', is an eco-friendly clothing brand promoted by the Shishir Goenka led – Mumbai based; Fusion Clothing Company. It has also to its credit India's first eco-friendly webstore of an eponymous name.

By being a pioneer in this field, it is doing for Indian cotton farmers what most others have failed at for so long – 'A supportive atmosphere that encourages environmental awareness and better living conditions for farmers in India'.

Fusion Clothing has 18 years of experience in manufacture & export of high quality knitted clothing and supplies to top brands around the world. DUS'G is produced at an ISO, GOTS (Global Organic Textile Standard) and OE 100 Certified factory at Tirupur.

Fusion Clothing is also partially offsetting its carbon footprint by sponsoring BNHS – forestation program & solar power project of TERI. Fusion wants to contribute to the improvement of our natural environment with support from our citizens and aspires to be a leader in eco-friendly fabrics & styles by 2020.

For the layman, organic cotton is grown without the use of pesticides & chemicals and helps prevent farmer suicides as they get better prices & yields & also do not need to use harmful pesticides which affect their health along with improving soil fertility & restoring natural balance in the ecosystem.

Shishir Goenka spoke exclusively with fibre2fashion and shared his vision and mission of launching an eco-friendly clothing brand.

We began by asking him as to how the idea to launch this brand came about and the obstacles he faced, to which he informed, "Our inspiration for 'Do U Speak Green' came about due to the absence of smart looking clothing for the nature lover & also absence of organic clothing in India. Most importantly, I have a passion for wildlife & helping preserve our natural environment, hence the decision to contribute 10 percent of sales for the environment.

"The biggest risks / obstacles are that, in India online sales of clothing are still to pick up & not many people are aware of the need for organic clothing. We have therefore put up a video on our webstore showing how the cultivation of conventional cotton is killing farmers as, they do not have protection from pesticides & the soil & environment is also damaged".

Sharing some more details, he said, "Organic cotton is softer & bamboo fabrics have natural wicking properties (like Dri fit of Nike) and also has anti-static & anti-bacterial properties along with which it is incredibly soft. For our first collection we have used 3 designers – a German designer and two Indian free-lance designers & I also provided some inputs.