KORUS will hurt US economy & displace textile jobs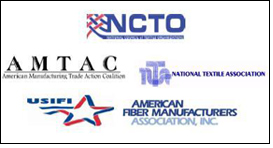 As representatives of the nearly 600,000 person fiber, textile and apparel sector, we are (National Council of Textile Organizations, American Manufacturing Trade Action Coalition, National Textile Association, American Fiber Manufacturers Association, U.S. Industrial Fabrics Institute) writing to express our concerns regarding job losses that will occur in the sector if the United States-Korea Free Trade Agreement (KORUS) is passed. We have analyzed the agreement carefully and come to the unfortunate conclusion that the textile portions of the KORUS agreement are seriously flawed. If passed in its current form, the agreement will open the U.S. market to a massive one-way flow of sensitive textile products from South Korea, as well as illegal Chinese imports, while providing no new export business to our textile manufactures and workers.

Instead of expanding markets, the KORUS will result in the continued outsourcing of valuable textile, apparel, and other manufacturing jobs. Using export projections from the United States International Trade Commission (USITC) and other U.S. government analysis, we are very concerned that 40,000 textile and related jobs could be lost under the KORUS. With our nation struggling through one of the worst economic periods in its history, we believe this agreement sends the wrong message to our workers and to American voters.

The KORUS agreement represents the second largest free trade agreement (FTA) that the United States has entered into behind the North American Free Trade Agreement (NAFTA). In contrast to recent trade agreements, the KORUS is also the first agreement since NAFTA where the country in question has a large developed textile sector which exports significant amounts of textile products to the United States.

During the last 40 years, Korea has become a large textile-producing country with a vertically integrated industry as a result of extensive support from its government. In 2010, Korea was the second largest exporter of textile yarns and fabric to the United States by volume. From a bilateral perspective, U.S. textiles and apparel imports from Korea are nearly three times the value of our exports to Korea. This relationship in trade added $745 million to the U.S. trade deficit in 2010 alone.

In our technical markets, South Korea has emerged as the number one exporter to the U.S. of advanced textile reinforcements and coated/laminated membranes which are used for roofing materials, potable water and fuel bladders, fabric shelters and structures, and automatic fabrics. At the same time, U.S. producers have reported that Korean competitors are engaged in predatory pricing and are selling these products at 20-40% below the normal market pricing. During the time period of these reports, Korea has moved from a distant number two position to a significant leading position among countries exporting to the U.S. in this category. The increase in Korea market share has comeat the expense of U.S. manufacturers and workers.