Swedfund to pilot new textile factory in Ethiopia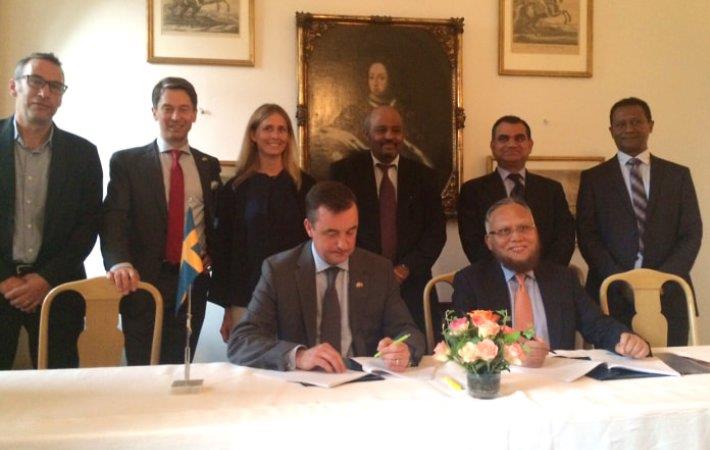 Swedish govt-owned development financier Swedfund and the Bangladeshi conglomerate DBL Group will establish a textile factory in Mekelle, Ethiopia, which will provide job opportunities for 4,000 people.

Swedish clothing major H&M will be a long time buyer and support with expert knowledge in sustainable textile production, Swedfund said in a press release.

"The factory will be a long-term sustainable industrial plant in every aspect and will be an important step for developing the textile industry in Ethiopia", said Anna Ryott, Swedfund Managing Director.

The loan agreement between Swedfund and DBL was signed at the Swedish Embassy in Addis Ababa on Wednesday. DBL Group, Swedfund and Development Bank of Ethiopia will in accordance with the agreement invest in a textile factory which H&M commits to buy products from during a certain number of years.

Decent working conditions, job creation for women and environmental considerations are some of the most important goals with the project pushing one of Ethiopia's prioritized industry sectors forward. The requirements on this individual factory are in line with the strict requirements H&M's suppliers always have to follow. The whole producing process will be accommodated in the factory, which at full capacity will employ around 4,000 people.

The collaboration project also involves local and international partners, in order to enhance the know-how around sustainable production of ready-made garments in Ethiopia.

"We have managed to form a unique partnership in Ethiopia with deep professional knowledge in every part of the process in order to fulfill the high sustainability requirements. It is a great example of how to work to achieve efficient job creation, and in this project it is particularly focused on women. Job creation is crucial to help people find their way out of poverty and the cooperation with such a great partners like H&M and DBL will make this a role model for other similar projects", Ryott said.

DBL will contribute with vast knowledge transfer to a fast growing industry. Swedfund contributes with knowledge from sustainable investments and will invest $15 million through a loan. H&M brings expertise from large scale textile production in a sustainable way and as a long-term buyer, the release said.

"H&M is pleased that Swedfund is co-financing a project with DBL Group. H&M wants to contribute to a long-term sustainable textile industry in Ethiopia taking social as well as environmental dimensions into consideration. It is important to us that both DBL and Swedfund are putting these questions on top of their agenda when doing investments", says Helena Helmersson, Global Head of Production at H&M.