TPP to boost Vietnamese economy, says Trade Minister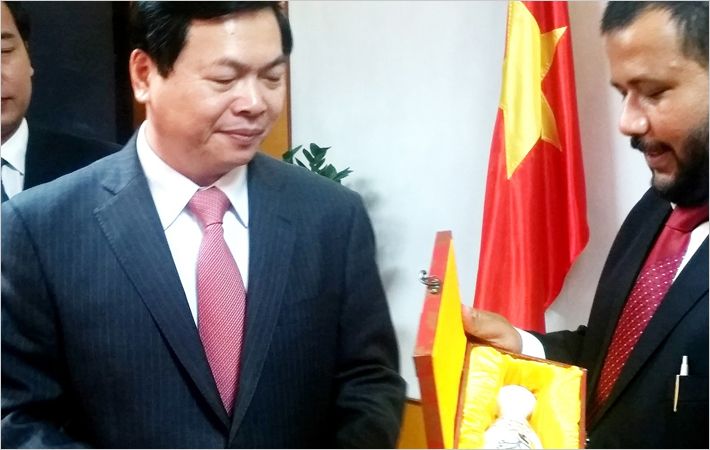 Two days after the Trans Pacific Partnership (TPP) trade pact was finalized in Atlanta, Vietnamese Minister of Industry and Trade Vu Huy Hoang has said the deal will bring many benefits to the country.

"For the economy, according to independent economists, the TPP will expand Vietnam's GDP by $23.5 billion in 2020 and $33.5 billion in 2025. The nation's exports will increase by $68 billion in 2025. In particular, the zero import tariffs in large markets like the US, Japan, and Canada will create a huge advantage for Vietnamese exports," Hoang told the Vietnam News Agency.

Vietnam's key export products like textile, garment, footwear, and seafood are expected to gain breakthroughs in export value to the US, Japan, Canada, the Minister said.

According to Hoang, Vietnam will have the chance to take part in supply chains that are established after the TPP comes into effect. TPP countries represent nearly 40 per cent of global GDP and 30 per cent of global trade, and include large markets such as the US and Japan.

"Therefore, there will surely be many production and business opportunities when the new supply chains are launched," he said.

He also pointed out that the commitments by TPP countries on services and investment are expected to have a positive impact on improving the investment environment and attracting more foreign investment.

Hoang also acknowledged that the biggest challenge will be the pressure of competition, especially in the livestock industry once TPP comes into play. "Viet Nam has many strengths in the agricultural sector, but its competitiveness is not really high in some industries, including animal husbandry. It is expected to be the most affected sector when the TPP commitments take effect," he told VNA.

Other economic sectors can also face competition, but it will not be great because the export structures of TPP countries complement rather than compete with Vietnam's.

"Increased competition from joining the TPP can make some State-owned enterprises and companies with obsolete production and business technologies face difficulties in the short term."

He was effusive about the positive effects the TPP would usher in. "The TPP, with its very high standards in administrative transparency and objective treatment of the State apparatus, will help Vietnam continue to evolve as a socialist law-based state, promote administrative reforms, increase the responsibility of State workers and prevent corruption," Hoang said.

To reduce the negative impacts of the TPP, Vietnam should reform its economic growth model and restructure its economy, including agriculture, reorganise production and promote application of technology, he said. But he remained optimistic about Vietnam's overall growth.