World trade stagnating, says OECD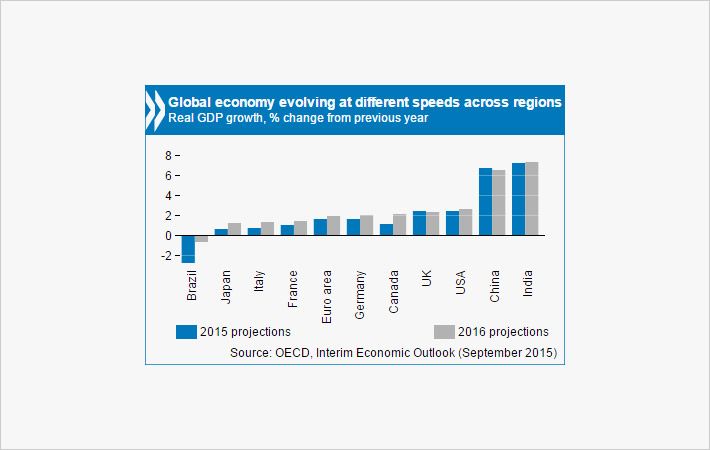 Economic recovery is progressing in the world's advanced economies, but stagnating world trade and deteriorating conditions in financial markets are curbing growth prospects in many of the major emerging economies, according to the OECD's latest Interim Economic Outlook.

Rising employment and household consumption are driving solid growth in the US, but investment continues to disappoint. Growth in the euro area is improving, but not as fast as would be expected given the falls that have been seen in oil prices, long-term interest rates and the value of the euro. In Japan, growth is improving, but tightening labour markets have yet to feed into the wage increases that would underpin sustained consumption growth and facilitate the achievement of the Bank of Japan's inflation objective.

A key puzzle in the short-term outlook centres on China, where recorded growth has held up well, but some indicators point to a slower underlying pace of economic activity. The marked slowdown in Chinese import demand has important spillover effects on global growth, particularly in emerging economies with close trade links to China, and those that depend on commodities. India is expected to be the fastest-growing major economy over the coming two years, while the outlook is weaker for many commodity-exporting nations, with Brazil experiencing a deep recession.

The impact of a larger-than-expected slowdown in Chinese demand through direct trade and investment links would be significant, especially for those countries most heavily exposed, but would not derail the global recovery unless combined with a large and widespread correction in global financial markets.

"Global growth prospects have weakened slightly and the outlook is clouded by important uncertainties," said OECD Chief Economist Catherine L. Mann. "Emerging economies have vulnerabilities that could be exposed by rising US interest rates and/or a sharper-than-expected slowdown in China, giving rise to financial and economic turbulence that could also exert a significant drag on advanced economies. Continued policy stimulus is warranted to support global demand, but the mix of policies will differ by country, and choices need to be consistent with financial stability and reviving long-run growth."

The OECD projects that the US will grow by 2.4 per cent this year and by 2.6 per cent in 2016, while the UK is projected to grow at 2.4 per cent in 2015 and 2.3 per cent in 2016. Canadian growth is projected at 1.1 per cent this year and 2.1 per cent in 2016, while Japan is projected to grow by 0.6 per cent in 2015 and 1.2 per cent in 2016.

The euro area is projected to grow at a 1.6 per cent rate in 2015 and a 1.9 per cent pace in 2016. Growth prospects differ widely among the major euro area economies. Germany is forecast to grow by 1.6 per cent in 2015 and 2 per cent in 2016, France by 1 per cent in 2015 and 1.4 per cent in 2016, while Italy will see a 0.7 per cent rate in 2015 and 1.3 per cent in 2016.