Hermes Fulfilment to enter US e-commerce marketplace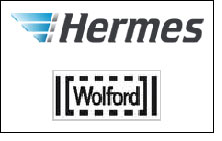 Hermes Fulfilment, a 100% subsidiary of Germany's Otto Group, a globally operating retailer and retail services provider, has engaged American logistics services provider Kenco Logistic Services LLC (KLS) to provide warehouse services for the web store of Wolford, an Austrian luxury lingerie brand. At its distribution centre in Chattanooga, Tennessee, Kenco will handle the storage, order picking and distribution of the Wolford merchandise. The product range includes swimwear and hosiery. Kenco will also process customer orders placed through the Wolford web store. It will also provide returns management services for the American market.

"After an in-depth examination of the logistics services provided by Kenco we feel sure that we have found a trustworthy and reliable partner to whom we can confidently hand over responsibility for our prestigious customer," explains Dieter Urbanke, managing director of Hermes Fulfilment. The Otto Group subsidiary is making its debut with a client in the American e-commerce marketplace. The call centre for the Wolford web store in the U.S. is operated by Global Response in Fort Lauderdale. All other services connected with the web store in the United States will be performed by Hermes Fulfilment in Germany.

For its online retail business Wolford has been relying on the services of Hermes Fulfilment since the mid-2009. In addition to the USA, Wolford's web store now operates in 14 European countries. These include Germany, Austria, Holland, Ireland, Belgium, Luxemburg, the United Kingdom, France, Italy, Spain, Denmark, Sweden, Finland and Switzerland. Other countries including Norway, Poland and Canada will be following soon. "We are very pleased that Wolford has chosen to continue to work with us on the execution of its internationalization strategy," says Dieter Urbanke.

The services being provided by Hermes Fulfilment include all back office processes from the development and management of the web store to payment management, accounts receivable management and returns processing. Furthermore, Hermes Fulfilment will provide Wolford with storage and shipping services. For the European web stores these conventional logistics services will be performed at the Haldensleben distribution centre in Saxony-Anhalt, one of Germany's 16 states. It is one of the largest high-performance distribution centers in Europe. As part of its internationalization process Wolford has also installed a global customer relationship management system which can be used to inform customers about special offers or to invite them to fashion shows. All these systems and services are coordinated from Germany without any additional interfaces.

Wolford AG has its headquarters in Bregenz in Austria. It has 14 subsidiaries worldwide and sells its products in 65 different countries via a network of Wolford boutiques and retail partners. Backed by over 60 years of experience, Wolford has become an internationally acclaimed premium brand with an extensive product portfolio. Wolford's product groups include ready-to-wear garments, legwear, lingerie, swimwear and accessories -- exclusivity from head to toe. The Austrian garment manufacturer produces two collections a year.