Gerber demonstrates commitment to global apparel industry during CISMA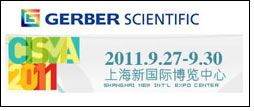 During the China Int'l. Sewing Machinery & Accessories Show (CISMA) show in Shanghai, China Sept. 27-30, Gerber, the apparel industry's leading provider of automation solutions, will highlight its complete portfolio of software and hardware systems used to automate design and manufacturing tasks for the world's apparel brands, manufacturers and retailers.

Featured innovations include YuniquePLM product lifecycle management tools, a new release of AccuMark pattern design software that includes significant productivity enhancements, powerful new software and control systems for its automated cutters and the GERBERconnect remote diagnostic system which is proven to enhance the productivity of Gerber systems.

With YuniquePLM software, companies of any size can quickly reap the benefits of a product lifecycle management tool. YuniquePLM FS (fast start) edition is an out-of-the-box solution that is easy to install and use and is designed to have users up and running in as little as three weeks. It is pre-populated with critical templates including PANTONE TPX and TCX color palettes, measurement tables, care symbols and instructions.

The company will also introduce the latest version of its world-leading AccuMark pattern design, marker making and grading software. AccuMark version 8.5 simplifies many of the day-to-day pattern making tasks including accelerating the process of digitizing hard patterns. It also simplifies marker planning by integrating it directly into the AccuMark workflow, accelerates costing tasks, particularly for knitted materials, and provides powerful tools to enable users to create patterns for sleeves and easily add internal darts.

Tom Finn, president of Asia Pacific and senior vice president of Global Operations for Gerber said, "CISMA provides us an opportunity to welcome the leaders of the global apparel industry to Shanghai where we have been serving customers for 15 years. Shanghai is now the headquarters for Gerber's Asia-Pacific business and its global operations and I am thrilled to be leading the charge based here. Not only do we proudly serve hundreds of the world's largest global brands and retailers but we are also pleased to be working with many of China's own apparel brands and manufacturers as they gain domestic momentum and worldwide attention."

With GERBERconnect software resident on a user's hardware or software system, Gerber Service personnel are able to monitor systems remotely, and, for matters that require a Gerber technician to be on site, issues can be resolved swiftly because the technician has the information needed to thoroughly troubleshoot the issue beforehand. Because customers experience higher system uptime, satisfaction improves.

Gerber will showcase a host of other automation solutions including the GERBERplotter XLp system, now available in a 2.2-meter-wide format, that offers state-of-the-art inkjet technology at a competitive purchase price and overall low cost of ownership. Also on display will be a full range of automated spreading systems and the GERBERcutter Z7, Gerber's newest high-ply cutting system, designed to operate around-the-clock with precision and without interruption. Z7 cuts intricate shapes, multiple hole sizes and notches in a full range of materials.