Macy's to be the first to roll out True Fit Technology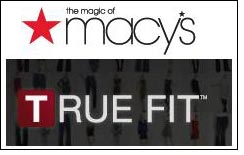 True Fit, the global leader in fit personalization software, announced the launch of groundbreaking new technology that helps each customer know how well clothes and shoes they view onscreen (online, mobile, tablet and in-store kiosks) will fit them in real life, and recommends which size is best.

As the inaugural retail partner, Macy's will be the first to leverage this technology for its online customers. True Fit's technology will initially be available for women shopping Macy's denim collection within its Women's Denim Finder.

Customers create their True Fit profile once, in 3 quick steps: First, they identify what fits them from their own closet; second, they identify conceptual body descriptions; and third, they complete their profile with some basic info – no measurements necessary. True Fit's sophisticated machine learning software deploys a variety of patented and proprietary algorithms to analyze massive amounts of data from the user's profile, shopping behavior, catalog of products, and a variety of other robust data inputs to deliver highly personalized fit and size recommendations in real time. The result is a highly personalized shopping experience that tailors a catalog to each person's individual fit, enabling men and women to shop a retailer's site True to You for all categories of clothing and shoes.

True Fit provides the user with a few key guides for each style they view. True Fit Scores (T-Scores) are displayed next to each product, indicating how well each item fits (5 point scale where 5T's is a perfect fit). True Fit Size is also displayed, representing the recommended size for a customer in a specific product. True Fit Details show how snug or loose that particular item will fit that person's body. Over time, users receive constantly improving recommendations as True Fit's machine learning engine learns more about what truly fits each customer as their body and preferences evolve.

True Fit helps multi-channel retailers optimize in many ways. In addition to dramatically improving sales conversion and return rates for existing online shoppers, True Fit helps capture new online growth by bolstering the confidence of customers who might otherwise shy away from purchasing online due to unsure fit. Since True Fit will be available across mobile and iPad platforms as well, True Fit also facilitates in-store shopping, by providing the store shopper a quick reference for how a product will fit – whether they have time to try it on or not.

"We're thrilled to partner with Macy's – a venerable retailer and innovation leader, who is on the cutting edge defining the very best experience for the multi-channel shopper. We're excited to deliver this highly personalized service to their esteemed customers, and make it easier for them to find the right clothes and shoes at Macy's," said William R. Adler, True Fit's Chief Executive Officer.

"Macy's is a recognized industry leader, committed to implementing the newest technological advancements that will resonate with our customers," said Kent Anderson, macys president. "By partnering with True Fit, we are able to provide a unique online shopping experience that brings a new level of personalization and service to customers that shop macys."