Hurley offers virtual try-on for its apparel line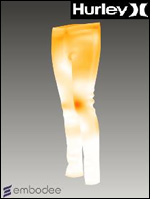 Technology start-up Embodee, whose proprietary online apparel try-on and customization services were developed by award winning creators of visual effects for "The Matrix" movies, has launched its second year and expanded services with Hurley, a quintessential youth lifestyle brand.

Using Embodee technologies, Hurley's online shoppers can virtually try-on the full line of Hurley denims styles and washes, and other pants, including corduroys and twills. Now with over 500 digitized pant options to choose from, Hurley customers will benefit from Embodee's life-like visualizations of best fits from each style and wash on them.

Record Sales, Record Reduction in Returns
Embodee, which launched its online apparel try-on platform last year, enables customers to quickly find their perfect look and fit by entering a few key data-points about their physique. During phase one, customer feedback hit a high of 4.8 on a scale of 5.0 as Hurley witnessed a new high in denim sales and conversion rates, and an unparalleled 33% reduction in returns.

Hurley's vice president, digital, Jeff Hurley said, "Embodee's try-on system is a game changer for e-commerce. Its value to online shoppers and to our business is clear from this year's record sales and significant reduction in returns in our denim line. We are delighted to expand the service offering to other types of apparel."

"Optimizing the online apparel shopping experience has long been considered the holy grail of fashion e-commerce," said Embodee CEO Andre Wolper. "And while there are many new and innovative approaches, they often fall short of addressing the real needs of shoppers - assessing look and fit. We have devoted ourselves to developing a platform that allows people everywhere and anywhere to fully experience a garment, real or imagined."

The Embodee Difference
The Embodee platform differs from other online fitting schemes by starting with real garments. Embodee scans, digitally re-stitches and drapes an apparel brand's clothing samples, turning them into digital garments.

"We create realistic visualizations that are dimensionally accurate so a shopper can truly determine the look and fit of a given garment on him or herself," said George Borshukov, Embodee chief technology officer and an Oscar winner for his work on 'The Matrix' films.

To try on a pair of Hurley jeans with the Embodee system, a shopper simply creates their virtual "bodee" based on a few measurements and a behind the scenes computation using a database of thousands of real body scans. Embodee technology combines digital garment data with the individual's "bodee" in real-time to give the customer a compelling, accurate, 3D visualization of how the jeans will fit and look from any view.

Adapting technologies from motion picture visual effects, the startup Embodee, enables online apparel shoppers to vividly and accurately see and even experience what a garment looks like on them. Through Embodee's accurate, lifelike, 360° visualizations, apparel brands provide their customers inspiration and confidence for an online purchase or a shortcut to a successful in-store purchase of any garment, even one the customer custom designs or configures.