Dolce&Gabbana accelerates site performance with Akamai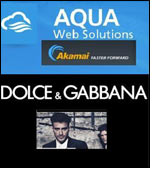 Akamai Technologies Inc, the leading cloud platform for helping enterprises provide secure, high-performing user experiences on any device, anywhere, announced that Dolce&Gabbana, the world's leading Italian brand in the fashion and luxury industry, has chosen Akamai's Dynamic Site Accelerator, part of the Company's Aqua Web Solutions, to accelerate all versions of its web site as well as "Swide", its digital editorial hub available in English.

Akamai's solutions have enabled the fashion brand to reduce site response time globally, decrease bandwidth utilization and reduce site abandonment while increasing site traffic and protecting its global brand image. In addition to Dynamic Site Accelerator, Dolce&Gabbana is using Akamai Media Delivery to offer live and on demand streaming of their catwalks with unprecedented quality on any platform, including mobile devices like iPhone, iPad, iTouch and Android.

"Millions of visitors from anywhere in the world access Dolce&Gabbana's web site every month. Analyzing the statistics related to the number of people accessing the web site, we noted that in some areas we were registering high abandonment rates. This was happening especially in the US, Japan and China," explained the Group Director Digital Marketing & Communication at Dolce&Gabbana. The web site, extremely rich in multimedia content, was in fact so slow loading pages that it was nearly unusable for Dolce&Gabbana's customers.

"We therefore decided to ask for Akamai's support," continued the Group Director Digital Marketing & Communication at Dolce&Gabbana. "Akamai analyzed the different versions of our web site and helped us determine that the main issue was poor performance in many countries where our portal is available. Unfortunately these countries represent our key markets. We then implemented Akamai's Dynamic Site Accelerator solution to help accelerate the delivery of rich, interactive content and applications on our sites, thus ensuring seamless delivery of our web site."

Since implementing the solution, Dolce&Gabbana's web site performance has improved nearly six times globally on average, while page loads were five-and-a-half times faster in North America, six times faster in Asia, seven times faster in Australia, and more than five times faster in Europe. Before implementing Dynamic Site Accelerator, the site load time was over 8.5 seconds on average, but on Akamai, the response time has decreased to less than 1.5 seconds. By decreasing page load time, Dolce&Gabbana also lowered site abandonment, which in turn helped it increase e-commerce conversion rates.

Akamai Dynamic Site Accelerator has also allowed Dolce&Gabbana to reduce the load on its data center by offloading over 87 percent of hits and traffic to Akamai edge servers, enabling it to confidently run high traffic marketing campaigns without special provisioning.

In addition, Dolce&Gabbana uses Akamai's Content Targeting solution to customize content based on data about the visiting user's geographic location, connection speed, device type and other attributes. As a result, Dolce&Gabbana can deliver targeted content in real time at the network edge for each visitor.