SEL selects Datatex ERP solution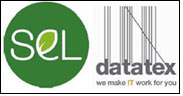 SEL Manufacturing Ltd, which has positioned itself as an established and leading vertically integrated multi product textile manufacturing conglomerate in India, has gone live on ERP in about five and half months time since initiation of the project. SEL runs with ultra modern facilities engaged in the manufacturing of high quality textiles across the entire textile value chain that include yarns, knitted fabrics, towels, readymade garments and in future denims too.

With a marketing network in more than 40 countries around the globe, SEL Group, which has a current annual turnover of usd 400 Million, has ambitious plans to reach US$ one billion by financial year 2013-14.

Elaborating about the implementation, Mr Neeraj Saluja, Managing Director, SEL Group said, "As I understand, this has been one of the fastest Datatex Implementation in industry. In fact, we wanted our ERP system to Go-Live exactly with the same speed and dynamism which SEL Group in known for."

"ERP provides an integrated view of business performance and does ensure efficient, transparent processes. It also enables rapid response to ever changing market conditions and improved collaboration between different internal teams", Mr Saluja added.

Talking about enabling SEL with ERP, Mr V K Goyal, Executive Director & CEO, SEL Group said, "Today SEL has grown to a position of prominence amongst the major textile players of India. In fact, SEL has not only come out as a frontrunner but is also most talked about and fastest growing Indian Textile Company in recent times creating one successful venture after another."

"Looking at the ambitious growth plans of SEL, it became all the more important for us to make the organization ERP enabled and we are confident that it is right fit for our organization's vision , long term strategy, business control, transparency and the need to improve efficiency across its end to end business processes", Mr Goyal added.

Mr Z S Chaudhari, President, IT SEL Group, says while elaborating about ERP implementation that out of the short listed three potential software vendors, SEL manufacturing Ltd chose the "Datatex NOW" ERP solution fully integrated to "SAP FICO" as its strategic platform and opted to implement it on the "IBM System platform".

Mr Chaudhari also told that "Datatex NOW" solution includes sector-specific modules and supports all the production planning, materials management, manufacturing, marketing and financials at SEL.

Ms Jyotsna Varma, General Manager IT, SEL told that by selecting Datatex ERP on IBM System server, SEL was able to implement the production and development environments for its Datatex solution on the same physical machine.

"In addition to avoiding the cost of buying, installing, powering and maintaining a second physical server, the company benefited from a single, integrated backup procedure for all its Datatex data", Ms Varma added.

SEL project includes sales, planning, scheduling, production, costing, shop floor management, inventory and purchases. All included in the Datatex NOW (Network Oriented World) standard offering.