Benetton picks WFX PLM for South Asian operations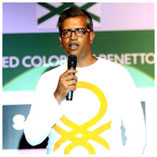 Benetton is rolling out World Fashion Exchange (WFX) PLM across its' South Asian operations to manage Product Development, Production and to collaborate with their vendor base. The company runs 550 stores across the region and sources from more than 100 vendors.

Benetton uses SAP as an internal ERP system and WFX On-demand PLM has been interfaced with Benetton's SAP platform such that information flows seamlessly between the two systems.

Collection information and style data is generated in WFX along with Purchase Orders and shared on-line with Benetton's vendor base. Product and production updates are managed using WFX's Time & Action calendar and workflow. Benetton users will access WFX via the web and on tablets to analyze information and make critical decisions on-the-go.

"We evaluated multiple PLM systems and based on our past experience with implementing software, wanted a solution that was simple and could be implemented easily. We concluded that WFX had the best combination of functionality and an intuitive interface that would easily be adopted by all users and vendors." said Sanjeev Mohanty, MD, Benetton South Asia.

WFX will enhance Benetton's growth by:
Reducing product development lead times
Enhancing product quality and deliveries
Reducing product cost
WFX is a next generation cloud-based Product Development Software for apparel and used by over 10,000 fashion users worldwide.
World Fashion Exchange (WFX)