Cognos 8 v3 to accelerate business performance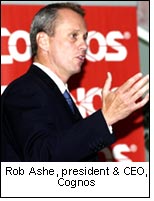 Cognos the world leader in business intelligence and performance management solutions, unveiled Cognos 8 v3 which provides customers with critical performance management components required to accelerate improved business performance.

"With compression in order lead times, manufacturing and supply chain cycle times, time to market, and product lifecycle, business success increasingly depends on timely decision making based on operational and financial performance," said John Hagerty, AMR Research.

"Pervasive PM [performance management] is a journey that organizations can and should embark on now to empower timely, comprehensive decision making and insight into the effect these decisions have across the ecosystem of the organization."

Backed by Cognos partners, Cognos 8 v3 helps customers accelerate their progress towards pervasive performance management and improved decision-making.

It consists of:
- New, richer BI and financial performance management user capabilities to deliver more targeted information to more user roles. These are led by Cognos' flagship business intelligence solution, Cognos 8 BI v3, unveiled.
- Core advances in the Cognos 8 enterprise-class platform to simplify management and deployment.
- These enhanced user capabilities and the advances in the Cognos 8 platform are supported by new best-practice solutions and updated consulting, training and support offerings.

Joining Cognos 8 BI v3 is a full range of companion performance management capabilities for enterprise planning, forecasting and budgeting, Microsoft Excel-based exploration and analysis, and consumer modes that let users interact with BI content using familiar applications or devices, such as a BlackBerry, enterprise search engine, Microsoft Office application or Web browser.

These performance management capabilities have all been optimized to leverage the Cognos 8 v3 platform and help technology, finance, line-of-business and executives drive informed, consistent decision-making across organizations.