CNMI & Lectra to enhance 'Made in Italy' image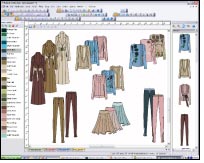 Last July, Lectra, the world's leading provider of integrated technology solutions for the fashion industry, signed an historic partnership agreement with the prestigious Camera Nazionale della Moda Italiana (National Chamber for Italian Fashion), the association that governs, coordinates and promotes the development of Italian fashion worldwide.

Through this partnership with the Camera Nazionale della Moda Italiana (CNMI), Lectra will be associated with all major fashion events in Italy, such as industry-related conferences, promotional events and the world-renowned "Fashion Week" in Milan: Milano Moda Donna (February 16-23, 2008).

The "Next Generation Project":
Lectra and the CNMI also decided to work together on programs to help young Italian designers successfully achieve their projects.

As a result, Lectra is now particularly involved in three main projects dedicated to the support of young designers: the "Fashion Incubator Project", "Next Generation Project" and "reGeneration Project".

The primary objective of the CNMI-Lectra "Next Generation Project" – also in collaboration with the Camera del Commercio of Milan - is to identify, encourage and distinguish young talented designers under 30 years old and is aimed at finding a new generation of designers to defend and enhance the future development of the "Made in Italy" image.

Four winners have been chosen from 120 candidates by a jury composed of CNMI members and other important fashion professionals and Fashion journalists: Giulia Burrascano, 24, a student at the Accademia di Costume di Moda; Vanessa Cinquemani, 25, having an industrial design training; Maurizio Iappicca, 23, graduate of Nuova Accademia di Belle Arti of Milano and Valentina Vizio, 30, having a doctorate in architecture from Politecnico Milano.