Rfidium launches Complete RFID Inlay Design & Production Service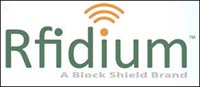 Rfidium officially launched by announcing its revolutionary custom RFID antenna inlay design service, flexible production services, and stock inlay line, combining the strengths and innovations of two specialty RFID providers: WaveZero and Mu-Gahat.

"Until now, label converters, integrators, design engineers, and frustrated end-users had to go to one source for custom RFID inlay design and prototyping, and another source for high-volume production. Now, Rfidium provides the best of both worlds, combining specialized capabilities for rapid prototyping and low-medium volume RFID production with high-volume RFID antenna production services and equipment." said Anh Hoang, General Manager.

Since RFID tags often detune when attached to objects, the ability to test actual, individual tag variations is imperative to ensure that a theoretical design performs optimally in its real-world environment. Rfidium inlays can be custom tuned to meet specific application and frequency requirements.

Rfidium's in-house staff of RFID antenna design engineers works with customers to optimize RFID tag performance for a specific application. Then using the company's proprietary software design process, Rfidium can produce from one to five simultaneous RFID inlay variations (antenna + chip on flexible plastic substrate) for product application and field testing. This enables faster time to optimal design than the traditional sequential, iterative one-at-a-time design process.

Using a patent pending laser ablation antenna process, together with their high speed Muhlbauer production equipment, further streamlines turnaround times, lowers costs and quantities more than typical inlay suppliers. For high-volume production, convenient facilities in Silicon Valley allow customers to fulfill their RFID production requirements locally, providing significant benefits.

For both prototyping and just-in-time production, Rfidium's production lines enable customers to do smaller economical runs of as little as 150 units. Smaller runs mean that customers no longer need to order larger than needed quantities or stockpile extraneous inlays, while customers with specialized requirements can get the inlays they need without premiums.

Rfidium's aluminum antennas and inlays comply with strict WEEE and RoHS environmental requirements, minimizing environmental impact for greener operations.

When it's time to move to high-volume production, Rfidium's specialized equipment allows you to fulfill your high-volume production requirements with excellent edge quality, minimum metal deposition requirements, and no re-design needed, providing significant benefits. Rfidium can provide finished converted label solutions via authorized converting partners.

Rfidium also carries a variety of stock RFID inlays using chips from leading providers such as Impinj and TI suitable for many applications, including tape cartridge, item-level, and pallet tracking. Stock inlays can be custom-tuned to meet specific requirements.