Lectra awards Design Faculty at ITAA Annual Conference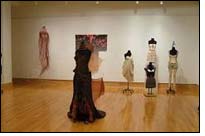 Lectra announced its continued support for educational programs that promote technology in the apparel industry through its participation in the 2008 International Textile and Apparel Association's (ITAA) Annual Conference, recently held at the Hyatt in Schaumburg, Illinois.

The ITAA is a professional educational association composed of leading university scholars, educators and students working in the textile, apparel and merchandising disciplines.

In addition to showcasing their leading state-of-the-art professional design software platform Kaledo, their benchmark pattern-making solution especially designed for the fashion market Modaris and Modaris 3D Fit, the highest performance virtual 3D prototyping solution on the market at the show, Lectra also sponsored & presented three awards to the outstanding faculty works in design, teaching & research.

The "Lectra Outstanding Faculty Designer Award" is an award given to an outstanding university faculty designer for their design submitted to ITAA selection committee. This year, 288 entries were submitted. At the end of a professional Fashion Show, the "Lectra's outstanding faculty designer award" was given. This year the winner is Annette Ames, Associate Professor from Marymount University for the design submission 'Ancient Future II.' The work was based on current cultural influences on fashion in the near future. The design idea was from historical and frictional feminine archetypes, and used draping technique to develop the piece. The winner was awarded a trip to Paris, France that will include a visit to Lectra's world headquarters and an invitation to attend the renowned seasonal fabric exhibition show, Première Vision, in September 2009.

The second award was the "Lectra Innovation Award for Teaching," which was given to Melanie Carrico and Ann Ramsey of the University of North Carolina at Greensboro for their work entitled "Design Principles and Aesthetics: hybrid course using technology tools." Their innovative work was reconfigured in a hybrid, or blended, format with some traditional in-class activities and lectures (synchronous) and some on-line class activities (asynchronous) to infuse the curriculum with more technology use.

Lectra also awarded the "Lectra Innovation Award for Faculty Research," which was given to J.R. Campbell, Vicky Begg & Alan Shaw of the Centre for Advanced Textiles, Glasgow School of Art, UK for their work entitled "Cross-technology, Cross-generations: Digital re-interpretations of the Charles Rennie Mackintosh textile designs." Their research work was conducted in two phases with the objective of digitally capturing, cleaning & re-interpretive printing and, creating digitally inspired re-interpretations of Mackintosh's original sketches.

"Lectra is proud of its long-standing dedication to the ITAA, as part of its involvement in promoting textile and apparel education. We are delighted by the level of innovation and creativity emerging from teachers and universities," according to Hari Kenkare, Schools Partnership Manager for Lectra North America.