Modaris V6R1: real benefits for apparel pattern makers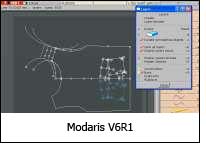 Lectra, the world leader in integrated technology solutions dedicated to industries using soft materials—textiles,leather, industrial fabrics and composite materials—launches the latest version of Modaris, its pattern-making solution for the apparel industry.

Modaris has been the industry standard for more than 15 years and is used by the biggest names in fashion worldwide. Modaris V6R1 offers even greater productivity, quality, and innovation for apparel industry professionals.

Modaris V6R1: Dealing with accelerated collection renewal in stores
With this new version of its pattern-making solution, Lectra allows apparel professionals to fully optimize their product ranges and associated patterns. The solution supports brands, retailers, sub- and co-contractors, service bureaus & fashion schools, alike in their quest to meet the most stringent quality standards for finished products. This tool responds to the industry's constant search for innovative technological solutions and, by facilitating the creation of different models more quickly, Lectra enables users to stay ahead of the competition and build customer loyalty.

Modaris V6R1's powerful construction tools allow apparel professionals to develop more patterns in less time. With this solution the number of physical prototypes necessary for the finalization and validation of models is reduced, and initial production runs can be made sooner and at reduced costs. Its high-performance capacities for all-size grading guarantee the quality and fit of garments and permit companies to optimize the development of new models and collections by drawing on existing elements. By making pattern information exchange simpler and clearer, Modaris V6R1 enables users to capitalize on resources and best practices in pattern-making and manage product development in a collaborative and international context.

Modaris V6R1: Real benefits for pattern makers
Modaris V6R1 is more user-friendly and offers higher performance, along with increased accuracy and speed at every stage of the model development cycle, including the creation and finalization of patterns, industrialization, grading, verification, and pre-production. A new layer interface for pattern construction ensures better quality and accuracy and reduces both the risk of error and the number of checks necessary. With Modaris V6R1, apparel professionals are able to reduce the time needed for the creation, modification, grading, and verification of their model patterns by around 20%.

In addition, Modaris V6R1's tools for automated creation and adjustment of corners, hems, and even mitered corners contribute to producing garments with a better quality of finish. These features can cut the time needed for this phase of the model industrialization process in half.

"The new version of Modaris has enabled us to save around 15% more time in our pattern-making activity compared to the previous version," said Silvio Cattarin, Design Office Manager for Tessilform, an Italian company known for its Patrizia Pepe brand of women's wear. "On grading alone we have accelerated the process by an extra 10%, and we have reduced the time necessary to finalize models by more than 20%."