Kornit Digital presents Dark Polyester Printing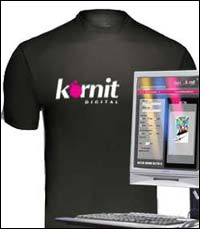 Once again, Kornit's experienced professionals succeeded to meet the technological challenges the DTG market has been facing for a long time, and to achieve the most advantageous printing results on dark polyester.

Yes, this is true, printing on 100% dark polyester and 100% dark polyester performance fabrics can now be printed digitally with Kornit 931DS and Kornit 932NDS industrial digital inkjet printers by using Kornit's existing ink technology along with the automatic wetting solution process.

The dark polyester printing method is a new feature integrated into the machine's software, allowing customers to conduct a smooth and productive workflow with one click!

Looking to boost your business? Don't stay behind! Stop by the Kornit Fespa Digital exhibit for a first-hand look at our newest addition and explore exciting opportunities to achieve high-quality dark polyester prints including variable data prints for sportswear, college wear and much more!

Kornit Digital Ltd.