V2R3 & ExpertNest for leather cutting and nesting method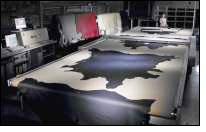 Lectra, the world leader in integrated technology solutions dedicated to industries using soft materials—textiles, leather, industrial fabrics, and composite materials— is pleased to announce the release of the new V2R3 version of its software for the MFC Furniture solution, designed for professionals in the upholstered furniture industry that use or cut leather.

Piloted by this new software, the MFC Furniture cutting system stands out among the competition for its ability to maximize material savings by reducing leather consumption while respecting specifications for the finished product. It guarantees flawless cut quality and shortened production times, regardless of the business environment, production methods, or type of leather to be cut.

New V2R3 software suite for MFC Furniture: technological innovations that benefit users
With the new V2R3 software, the MFC Furniture automated cutting system now integrates optimized nesting methods. This upgraded package provides improved tools for cut order management, is easier to use, and includes a particularly comprehensive and powerful range of options.

Optimized nesting methods
The new V2R3 MFC Furniture software enables users to optimize the overall efficiency of the MFC Furniture cutter through nesting software available in LaserNest, AutoNest, and now ExpertNest formats.

LaserNest is Lectra's interactive nesting method which allows the operator to place pattern pieces on the hide using laser projection. Innovations in this new version of LaserNest permit even relatively inexperienced users to achieve greater efficiency when nesting patterns. The system is now simpler and more automated, making interactive nesting "intelligent" and limiting the number of repetitive and tedious tasks required.

AutoNest is Lectra's method for automatic nesting of pattern pieces on a hide. The quality of nest achieved with this automatic method has been maximized through improvements in the accuracy of image capture and processing as well as contour and flaw recognition, regardless of the color of the hide.

ExpertNest: Lectra's unrivaled new nesting method
The new MFC Furniture V2R3 software is particularly noteworthy for the inclusion of a completely new and original nesting method: ExpertNest. A technological breakthrough without precedent on the market, ExpertNest enables companies to significantly increase their competitive advantage.

Until recently, there were only two ways of nesting pattern pieces onto hides. Professionals could perform nesting automatically with AutoNest or interactively, with LaserNest. Now they can make the most of a perfect combination of these two nesting methods. Once the first pattern pieces have been nested by an operator using LaserNest, AutoNest's automatic nesting system can take over and complete the hide.

MFC Furniture is the only solution on the market to offer this combined nesting technique which meets the most essential requirements of upholstered furniture manufacturers. They are now able to process all types of leather—natural, semi-aniline, printed, or corrected. What's more, companies can choose, at any time in the process, the method most suited to their production, regardless of the styles and models to be produced or the organization of their plant.