NTWK-GK forms IT Services & Software Development JV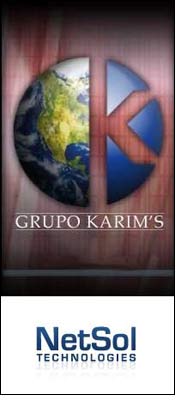 NetSol Technologies, Inc. "NetSol", a U.S. corporation providing global business services and enterprise application solutions to private and public sector organizations worldwide, announced the company has signed a definitive joint venture agreement with Grupo Karims, a large diversified and prominent commercial group headquartered in Honduras, with operations throughout Latin America.

NetSol GK Latin America will be used exclusively to support the expansion of NetSol North America's (NTNA) BestShoring business model and establish an additional NetSol Center of Excellence for the provision of cost effective global business services throughout North America and Latin America. The joint venture provides for the delivery of a full range of IT services and software development capabilities including bespoke software development, software integration and test engineering, SAP integration services as well as related IT solutions to public and private sector clients. The new NetSol GK Latin America partnership will provide NetSol a state-of-the-art technology delivery facility located in Grupo Karims' recently launched Altia Business Park in San Pedro Sula, Honduras.

Najeeb Ghauri, NetSol Technologies, Inc. Chairman and Chief Executive Officer, stated, "In line with our strategy to diversify our global IT service delivery network and best serve our clients needs, the launch of NetSol GK Latin America marks a major milestone in the expansion of our IT services delivery capabilities aimed at providing high quality, cost effective IT services to customers throughout the Americas. Our joint venture agreement with Grupo Karims aligns NetSol with a large and well respected Latin American partner with the critical local experience and resources to match our comprehensive global IT solutions delivery expertise. This agreement provides a highly efficient platform upon which to expand our presence in the Americas under our successful BestShoring business model. NetSol stands as a pioneer IT company in this emerging market, aiming to fully leverage the cost arbitrage benefits and serving to further diversify our business offerings to support NetSol's future growth in the region."

Francisco Franco, Grupo Karims' Chief Operating Officer, commented, "As a leading diversified Group in Latin America we sought a joint venture partner with an experienced global IT services capability to help Grupo Karims achieve its vision of building a world class software development and IT services presence in the region. We envision huge new opportunities for NetSol in the emerging economies of Latin America as a joint venture partner. Further, we achieved our goal and gained a certified CMMI Level 5 partner with a successful track record of serving globally focused clients throughout North America, Europe, Asia Pacific and the Middle East. Our new high technology delivery infrastructure and centrally located facilities, with access to high qualityIT professionals, positions NetSol GK Latin America to leverage the growth we are seeing locally as well as among international companies looking to expand in the region."