Counseling completed at FDDI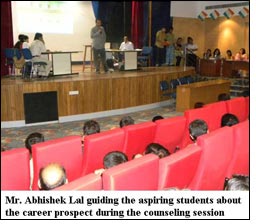 Footwear Design & Development Institute popularly known as FDDI is a place innumerable students aspires to reach; where getting admission is a tough job because large numbers of students apply for the limited number of seats available.

FDDI is rated among the premier fashion institutions in the world for conducting wide range of long term and short term programmes in the area of Retail Management, Fashion, Footwear Design, Technology, Management, Fashion Merchandising, Marketing, Creative Designing & CAD/CAM, Leather Goods & Accessories Design etc.

Mr. Abhishek Lal, Buying Manager, Intersport United Arab Emirates guides the aspiring students
During the counseling session for admission to the various programmes of FDDI, Mr. Abhishek Lal, Buying Manager, Intersport United Arab Emirates guided the aspiring students about the career prospects in the area of retail, fashion and management.

Mr. Abhishek Lal guiding the aspiring students about the career prospect during the counseling session

He has done Management Course of Footwear Technology (MFT) 4th Batch, from the FDDI, Noida which he considers a turning point for his career that gave him the concrete foundation to understand the complexities of business environment.

Mr. Lal has served in a wide variety of assignments in Footwear and Retail Sector including as Country Head- Puma, Hindustan Liver, Adidas etc.

In his address to the aspiring students, Mr. Lal said that, the course & curriculum of FDDI is very impressive and its programmes equips the students with the skills, creativity and knowledge and insight to understand the complexities of the business world.

He attributed his success to FDDI's training which infused the necessary skill & knowledge in him as a result of which, in the present company, he is able to handle 30 thousand different types of products in a mall in Dubai.

According to Mr. Rajeev Lakhara, IRS, Managing Director, FDDI "We are observing the economic slowdown in the world but still a lot of potential is available in the field of Retail, Footwear & Leather Goods & Accessories Design. The confidence of the Industry in our graduates is the reward of the hard work done in grooming of our students."

"At the time of the global recession, we are still able to place our students with reputed companies because we put best of efforts by updating our self with change in global requirement in terms of curriculum, faculty, learning methodology, infrastructure, labs, machines and training aids to remain internationally competitive and comparable, added Mr. Lakhara.

He further said that "Deciding between such wonderful and often equally deserving students was incredibly grueling, and simply heartbreaking. We rather feel like sulking in the corner for the candidates who were not selected due to the limited number of seats."

For admission to the various programmes of FDDI, a Common Entrance Test was conducted on 12th, 13th &14th June 2009 at 27 cities all over India for its various programmes for the academic session 2009-10, the result of which was declared on 23rd June 2009.

Out of All India merit list of Common Entrance Test, the short listed candidates were called for Group Discussion (GD), Personal Interview (PI) & Creative Ability Test (CAT) for Post Graduate programmes & for Under Graduate programmes from 29th June to 4th July 2009 at FDDI's campus in Noida. The result of GD, PI & CAT was declared on 7th July 2009 after which separate intimation was sent to the successful students for counseling.