PLM Boot Camp 09 sponsors PLM research from Aberdeen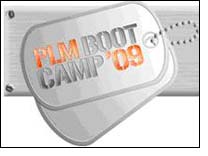 PLM Boot Camp 09 is proud to sponsor the latest PLM research from Aberdeen Group, a Harte-Hanks Company, titled, "Integrated Design-to-Delivery for Fast Fashion: On-Time, On-Trend and On-Profit.

This report reveals the best approach to improving operations from concept to delivery of apparel and footwear products and examines what leading apparel and footwear manufacturers are doing and the benefits they are achieving.

"We want to give access to information that was relevant to the PLM Boot Camp mission", said Nancy Winslow, the events Education Chairwoman. "Chad Jackson will be joining us as a key note on October 9th at 8:30am to share more on the findings in this report and take questions from our audience through live chat. A recording of this session will also be available during the on demand event throughout December 20th" says Winslow.

There's little question that the apparel and footwear industry is a difficult place to run a profitable business. The trends shift quickly and unpredictably. The deadlines are short and there are harsh consequences for delays. Margins are thin with little to no safety net. However, the top 30% of study respondents (the Best-in-Class) are not only surviving, they are thriving, with almost twice the revenue growth (13%) compared to all other respondents (7%). What is their secret?

The top performers are optimizing their design-to-delivery processes by having initiatives to better control designs and gain greater visibility into their operations. "As a result, top performers are able to hit launch targets 88% of the time," explains Chad Jackson, Vice President, Product Innovation and Engineering, Aberdeen Group.

"These productivity improvements are allowing these industry leaders to achieve the benefits of selling their products at full price and meeting their sell through targets at 82% of the time or better."

The report "Integrated Design-to-Delivery for Fast Fashion: On-Time, On-Trend and On-Profit" enables readers to take advantage of the lessons learned from these companies while avoiding the pain points and obstacles encountered by their peers.

Click here to view complimenatary copy of report.

About WYSWYG Productions LLC:
WYSWYG Productions is the media and event planning and production division of WYSWYG, LLC (www.wyswygllc.com). WYSWYG Productions offers live events, webinars, virtual event production. With a dedicated team of media experts, graphic design, marketing public relation strategists, our team make your webinars and virtual events a success.

About Zweave, Inc:
Zweave, Inc. is a leader in on-demand Design Automation Software, serving the needs of federal and consumer product development organizations. For the thousands of people working in organizations that design, source and manufacture clothing, footwear, equipment, textiles and consumer products, Zweave's software solutions make it as easy as possible to share and manage product development information anywhere, anytime.