Cannelle Lingerie opts for Cegid's .Next Assortment module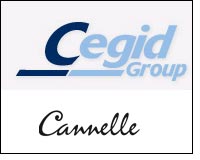 Cannelle Lingerie, part of the Mulliez Group, has selected Cegid's retail management solutions to completely overhaul the systems at its head office and store network. At the beginning of 2009, Cannelle Lingerie became the first retailer to implement Cegid's .Next Planning and Open to Buy expert modules. More recently, Cannelle Lingerie also selected .Next Assortment to optimise buying and assortment planning.

After many years of struggling with an aging and cumbersome system, Cannelle Lingerie who is the second largest lingerie chain in France, with more than 120 stores, launched a major project to replace its IT system for the headquarters and the stores.

The new solution had to be flexible and reactive, with best-in-class functionality, especially in purchasing management. After a series of meetings with the industry's key software providers, the company selected Cegid's merchandise management and EPOS solutions as well as the .Next Merchandise Planning, Open to Buy and Assortment modules. "We wanted an integrated solution to manage the entire business, including our stores and franchises without having to create multiple interfaces. We were also looking for a software partner to support us with budget construction, seasonal assortments and advanced replenishment," says Sandrine Smith, Supply Chain Manager at Cannelle Lingerie.

"We operate with a permanent product line, regularly adding new products, some of which extend from one season to the next. If you add theme and colour management, plus numerous sizes, especially for bra's, defining objectives and adequate assortments becomes a major challenge," Sandrine Smith points out.

The primary ambition of the brand is to meet its overall targets whilst giving each product manager the autonomy to manage their activity based on pre-defined objectives.

Optimise Sales and Replenishment Objectives
Each of Cegid's value-added modules has helped Cannelle Lingerie to consolidate sales and purchasing budgets at different levels. Operational since early 2009, the expert .Next Planning and Open to Buy module enables retailers to determine sales objectives (season, product, equivalent stores, network) according to previous years' track records. The modules also enables Cannelle Lingerie to set up pre-season budgets and purchasing authorisation according to certain indicators (sales figures, margin, markdown rate, stock).

"Every Monday morning store and product managers have a complete view of their performance," explains Smith. "Each manager can review the data, perform a number of what-if scenarios, and then fine tune the sales strategy. This allows the managers to anticipate their activity with full knowledge and a clear view of the results."

As well as improving in-house productivity, the company aims to optimise assortment management to maximize sales and net margins.

As the company's Supply Chain Manager points out, "Early feedback from users has been very positive. Not only is the solution easy to use, but it has also improved and streamlined our business processes – the close cooperation of our project teams from day one can attest to that."