Lectra to feature garment cutting-edge technology at GTE'11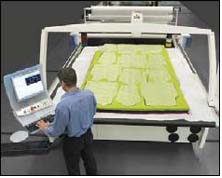 Lectra, the world leader in integrated technology solutions dedicated to industries using soft materials—textiles, leather, industrial fabrics and composite materials—, will be participating in the GTE'11 Trade Show from January 7 to 10 in New Delhi, India. During the event, Lectra will be demonstrating the latest versions of Modaris, DiaminoFashion, Kaledo and Optiplan and is pleased to announce the launch of "Cut your Cutting Room" an initiative to aid the apparel manufactures in the region New Delhi to make the cutting room operations world class.

Lectra has a vital role to play in supporting the fashion industry. Lectra's presence at GTE'11 demonstrates the company's commitment to maintaining close relationships with its customers in India and to sustaining its efforts to pursue ever more innovative new technologies.

"Apparel manufacturers operate in an increasingly competitive environment and are under pressure to improve time to market and reduce costs, while expanding their product offer. In India, the fashion market is undergoing rapid transformation in order to supply both growing domestic and export demands. At Lectra, we believe it is our role to help our customers overcome the challenges their industries face.

"India is a key market for Lectra and our strong involvement will help Indian manufacturers to implement world class technologies to stay profitable in the challenging market situation. We will capitalize on Lectra's added-value solutions and services to create a clear competitive advantage for our customers and help them turn challenges into opportunities," said L J Prashanth, Managing Director, Lectra India.

"It is a challenging time for the Indian apparel manufacturers and exporters to be competitive in the market. Indian companies need to use most sophisticated technologies to remain competitive. Lectra's range of innovative solutions will open up new opportunities for Indian companies," confirmed L J Prashanth.

"With the launch of 'Cut your Cutting Room' initiative in New Delhi hub, we will be offering consulting study at apparel manufacturing facility to analyze and recommend the right processes and work flow for optimizing the cutting room. Our engagement will enable the Indian companies to embrace 'lean manufacturing' and achieve measurable fabric optimization, productivity benefits and operational savings with world class cutting room solutions."

To provide each customer with the benefits of high value-added, innovative solutions and expert teams, Lectra has enacted its relational value player strategy founded on five core elements: unrivaled knowledge of industrial best practices, a unique offer (software, CAD/CAM hardware, and associated services) to create value and optimize investments, a commitment to ensuring complete customer satisfaction, a passion for innovation and a clear strategy with solid fundamentals. Dedicated to its customers, Lectra maximizes the synergy among its different markets to respond to their specific, individual needs while developing long-term relationships.