Magaschoni to deploy RLM FashionManager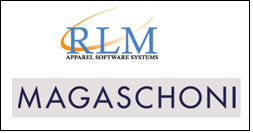 RLM Apparel Software Systems Inc announces that women's luxury fashion brand Magaschoni has begun implementation of the FashionManager enterprise software solution at its Manhattan headquarters.

The 40-user system will replace multiple legacy financial, product lifecycle management (PLM), and enterprise resource planning (ERP) systems with a single, fully-integrated business solution. Magaschoni expects this streamlined and updated computing platform to support better informed, more timely business decisions by improving accessibility and visibility of information across the design, production, sales, retail, accounting, and management teams.

"Our existing systems were added independently over a period of 10-15 years," explained Executive Vice President and Chief Financial Officer, Kevin Mogyoros. "The current lack of integration limits our ability to share information and track performance in a timely and accurate manner. In RLM, we found a technologically advanced system and company that meets and exceeds all our needs with a single, comprehensive solution. With FashionManager, we look forward to gaining more control and visibility across our entire company."

In addition to an on-premise installation at its New York offices, Magaschoni will deploy FashionManager at its New Jersey warehouse operations. Global vendor partners will also gain access to the system, while integration with existing sales and e-commerce systems will extend benefits to the company's retail channel.

"In a project that touches every aspect of the business, we knew that we needed a partner that we could trust and depend on well into the future," added Mogyoros. "We have this level of comfort with the RLM team and the technology that they deliver."

"We are pleased with the opportunity to work with Magaschoni", noted RLM Vice President of Development, Andy Lynn. "We applaud the work they have done to define their system requirements and business needs. We are confident that they will leverage the full power of FashionManager to support their impressive and growing operations."

Established in 1989, the lifestyle-driven company embraces the highest standards of creativity and quality. Magaschoni has evolved over the years to meet the ever-changing needs of the modern women and the changes in the rhythm of their lives. The brand is synonymous with luxury. The label consists of women's sportswear and knitwear collections made of the highest quality fabrics and yarns including silk, cotton, linen, soft wool, prints, fine stretched fabrics and most notably, cashmere. Magaschoni is known for its special attention to color such as the 42 sumptuous variety offered in cashmere, and detail like intricate beading, embroideries and specialty stitching.

Magaschoni is headquartered in New York City and the collections are available in over 800 retailers worldwide including major high-end department stores, specialty stores, and Magaschoni-owned freestanding boutiques in East Hampton, NY, Southampton, NY, Greenwich, CT, and Beauchamp Place, London.