Versatile textile display solutions from Spandex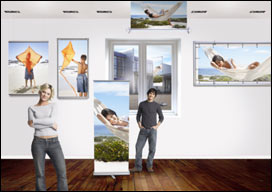 Spandex, the one-stop supplier of complete offerings to the digital printing and signmaking industries, has launched a campaign to highlight how printers can maximise their existing inkjet print technology to deliver profitable Textile Display Solutions.

Designed to help printers discover the benefits of textile printing by using their current inkjet printer, Spandex's new campaign will demonstrate how textile prints can be turned into complete, easy-to-assemble advertising solutions with the company's stylish range of high quality aluminium Textile Display Systems and elegant finishing accessories.

Spandex offers a wide range of textile materials that can turn static graphics into attractive flexible print such as popular flags or banners in a wide range of finishes and applications. These are ideal for advertising banners, textile billboards, posters, textile walls as well as backgrounds for trade shows, showrooms, theatres and offices.

"Printers who have already invested in inkjet technology can start reaping the benefits of textile printing today," explains country business manager Phil Mc Mullin. "Textile prints can add a new dimension to customer projects without too much additional expense or hassle. By simply selecting an appropriate textile material, display system and specialist finishing accessories, printers can extend their in-house, all-round service capability and offer stylish, complete soft signage solutions. By providing a full service, printers can widen their relationships with customers while accelerating time to market and benefiting from higher margins."

Spandex's wide product range comprises all the materials that printers and sign-makers need to print, finish and install Textile Display Solutions. As part of its campaign, Spandex has designed a new Textile Display Solutions brochure that explains how digital printers can offer complete soft signage solutions in three simple steps.

Textile Display Solutions – Overview
Textile Materials
As part of its comprehensive, cost-effective portfolio of carefully selected digital and signage media, Spandex offers a range of multiple textile materials for small format, lightweight or large format, heavy-duty applications. From textile banner flag material, polyester textile banners, roll-up media, cotton banner and artistic canvas, Spandex offers over 10 different products within its ImagePerfect textile range. Complying with the stringent industry fire rating systems, ImagePerfect textile materials are easy to handle as they convert without sewing, don't fray when cut and don't require edge welding.

Recently, Spandex added IP2314 to its ImagePerfect portfolio, which has been specifically designed for digital printing on large-format inkjets as it is suitable for printing with eco solvent and solvent inks as well as UV-cured inks. IP2314 uses specially treated polyester that has a very smooth surface, allowing for extremely high print quality. As it is highly resistant to creasing, it can be used for a wide range of indoor and outdoor applications such as POS promotion, advertising banners, textile billboards/posters, and textile walls and backgrounds. To facilitate a professional finish, it produces stunning results when used in conjunction with IP Mounting Tape.