EYELEVEL INTERACTIVE creates Switch-It for clothing industry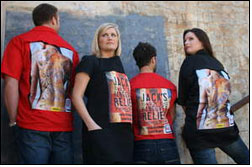 EYELEVEL INTERACTIVE is opening eyes in the apparel industry with the introduction of its consumer Switch-It Clothing at the 6th Annual Fountain Art Fair, beginning at noon at Pier 66 Maritime in Hudson River Park at 26th Street and 12th Avenue and concluding on Sunday, March 6th. After recently taking the commercial uniform apparel industry by storm, EI offers a glimpse of how their patented technology can change the consumer fashion world.

EYELEVEL INTERACTIVE is teaming up with contemporary artists Juan Sanchez, Terrenceo and Karl Jean Petion of LambertArts / Harlem Art Salon. EYELEVEL has created apparel that features different art pieces created by these artists. The shirts have custom changeable panels called Switch-Its allowing the wearer to switch out the art design, essentially changing the look of the garment in seconds.

"I can't think of a better venue to debut our consumer line of our Switch-It Clothing than at a cutting edge New York art show," states Blair Enfield, EYELEVEL INTERACTVE's President. "These artists represent vision and innovation in the art world and our Switch-It concept is like a blank canvas for forward-thinking clothing designers globally."

EYELEVEL INTERACTIVE is also adding an element of interactivity to the Harlem Art Salon exhibits. Each artist's Switch-It panel will also feature a custom EI Tag Mobile Action Code that can be read by smartphones, directing mobile users to profiles of these artists and other examples of their portfolio.

The patented EI Switch-It Panel can be built into any type of garment, merging design and transforming consumer apparel into an easily changeable and stylized garment. EI Switch-It Panel are 100% recyclable, can be designed in different shapes and sizes and may be customized to the type of apparel or location on the garment they are placed. EI Switch-It Panels may represent a band, event, sporting team, customized designs, a personal cause, promotion or any other indicia. In addition to style or collectible applications, these garments also present an affordable clothing option in a struggling economy. Instead of the consumer having to buy a completely new shirt, clothing designers can offer different EI Switch-It Panels that can change the look of the garment at a fraction of the cost, with maximum visual impact in a matter of seconds.

EI Switch-It Panels can also feature EI Tags. These proprietary EI Mobile Action Codes allow consumers to interact with EI Switch-It Panels by linking the EI Tag to any desired URL. Any consumer with a smartphone or wireless device can download and install an application such as the Microsoft Tag Reader that will allow them to scan and read the EI Tag instantly. EI is preparing to launch its patent pending Near Field Communication (NFC) garment technology that allows a consumer to wave a smartphone in near proximity of an EI garment to instantly send data to a smartphone allowing a mobile user to identify the brand, manufacturer, model, size and availability of an EI equipped garment which gives the mobile user an opportunity to purchase the desired apparel direct from a retailer or manufacturer instantly via their mobile device.