Monza 5 & STP Source to speed item-level encoding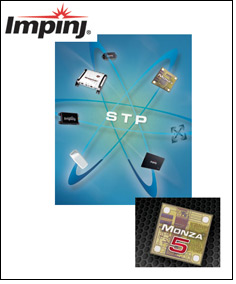 Impinj Inc announced the launch of two critical components for implementing item-level RFID across retail markets and supply chains. Impinj's Monza 5 tag chip and STP source tagging platform will enable widespread scaling of RFID retail inventory management solutions, driven by the Item-Level RFID Initiative announced last November by leading retailers, suppliers and industry organizations.

Available now, Monza 5 is Impinj's newest RFID tag chip. Designed for serializing items such as apparel, electronics, cosmetics, jewelry and pharmaceuticals, the chip breaks new ground in item-level tag performance. Monza 5 chips are optimized for single-use tag applications that demand the highest read reliability and lowest applied tag cost. In addition, Monza 5 tag chips deliver value on multiple fronts for item-level tagging: the design satisfies supplier and brand owner cost/performance requirements, maximizes RFID business results for retailers, and streamlines high volume inlay manufacturing.

The STP source tagging platform is a UHF RFID reader system with hardware and software optimized to streamline high-speed commissioning during item-level tagging. Utilizing Impinj Monza-based tags, STP is capable of encoding up to 1,750 tags per minute, thus enabling large-scale deployments. STP simplifies source tagging by supporting both inline and bulk encoding solutions.

For suppliers, brand owners and their service bureau partners, Monza 5 tag chips deliver the industry's lowest applied tag cost via robust write reliability and encoding speed. During writing, Monza 5 tags are four to six times more sensitive than competing chips, enabling greater reliability and significantly faster encode and lock rates.

Monza 5 tag chips also include Impinj's patented SafeWrite mechanism that ensures accurate and reliable operation when writing data into the tag. Without this capability other tags may initiate write operations which fail, thereby stalling assembly and packing lines. Only Impinj's Monza 4 family of tag chips matches these capabilities.

For retailers investing in RFID for item-level inventory accuracy, Monza 5 tag chips provide the industry's highest single-antenna sensitivity, ensuring significantly improved read reliability over competing tags, particularly in more challenging conditions. Only Impinj's Monza 4 tag chips with True3D dual-antenna technology can achieve higher sensitivity.

In addition, Monza tag chips support two unique, patent-pending features designed to boost inventory performance for traditional EPC and TID-based applications: TagFocus mode minimizes redundant reads of strong tag signals, allowing the reader to focus on harder-to-find tags with weaker signals. FastID mode makes applications based on tag ID (TID), such as authentication, practical for the first time by boosting TID-based inventory speeds by 2-3 times. These fundamental advantages deliver more effective RFID system performance and more profitable business results for retailers.