Representation of domestic resources remains strong at Texworld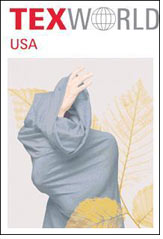 Though known as an overseas sourcing show, supply and demand for domestic resources remains strong at Texworld USA.

The eleventh edition of Texworld USA will take place July 19 - 21, 2011 at the Javits Convention Center in New York City.

In a post-show attendee survey conducted after the January 2011 edition of Texworld USA, 48% of respondents indicated a desire to meet more domestic resources at the show.

Twenty-three American exhibitors are participating in the July 2011 edition, which opens July 19th at the Javits Convention Center in New York City. In addition to several U.S. based trend services and publishers, the following spinners and knitters are exhibiting at the show, as well as a beading and embellishment specialist.

Buhler Quality Yarns Corp., Booth 2608
Buhler Quality Yarns offers luxury yarns made of MicroTENCEL MicroModal, and Supima cotton fibers. The strength and fineness of their fiber selection allows for finer yarns, longer lasting fabrics, reduced pilling, excellent drape, hand and sheen. They pride themselves on not being for "Fast Fashion" but for manufacturers that strive to create a product that is sustainable throughout every aspect of the manufacturing process and life cycle of the garment.

Fessler USA, Booth 2614
Fessler USA announces that their new solar powered manufacturing facility is up and running in Pennsylvania! Combined with their extensive collection of fabrics made from environmentally friendly fibers and yarns, including TENCEL and Lenzing Modal, and a focus on sustainability and innovation, this facility makes Fessler USA a private label manufacturer of choice for retailers and brands around the world.

J.H. Textiles, Inc., Booth 2623
J.H. Textiles is proud to be exhibiting in the Lenzing Innovation Pavilion at Texworld USA for the first time. They will be featuring a range of Lezing Modal and MicroModal fabrics in blends with Supima and cotton. J.H. Textiles is a resource for those seeking ultra fine knits, even offering fiber count yarns up to 50/1.

Laguna Fabrics, Booth 2607
Los Angeles based Laguna fabrics is a long time favorite of Texworld USA attendees and a destination in the Lenzing Innovation Pavilion. For the July 2011 show, Laguna will be featuring sheers, textures, pointelles and novelty stitches using Lenzing fibers. They will also be promoting their recently added range of sweater knit stitches with coarser count yarns.

Mansfield Textile, Inc., Booth 2613
Mansfield Textile was established in 1996 and is located in their owned 55,000 square feet modern building in Vernon, California. Their recent investment in sixty new knitting machines confirms their ongoing dedication to technical innovation. In addition, their dedication to creativity and quality continues to earn loyalty from many of the most respected brands and retailers in the U.S.A. Mansfield specializes in TENCEL, Lenzing Modal, rayons, cottons and poly knits.