Stylish Back-to-School clothing from jcpenney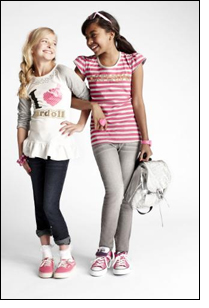 jcpenney, America's destination for great Back-to-School style at compelling prices, invites customers to discover the latest trends in fashion, apparel and accessories from the most desired brands in retail. Providing customers a one-stop-shop for all of their needs, jcpenney offers an extensive style assortment and a wide variety of lifestyle merchandise.

Adding to the collection of sought-after brands including The Original Arizona Jean Company, Levi's, Decree, Olsenboye, Rusty, Vans, Uproar, and Zoo York, the new, exclusive Stardoll brand brings fun and excitement for tween girls, and this year's addition of French Toast enhances jcpenney's unparalleled uniform selection.

"We know Back-to-School is a key time for kids and teens, and we are committed to offering the latest trends and styles in apparel and accessories at affordable prices to help them put their best fashion forward," said Steve Lawrence, jcpenney EVP, Senior General Merchandise Manager. "By offering the private, exclusive and national brands that both moms and teens love, jcpenney continues its commitment to being America's No. 1 style destination for Back-to-School shopping."

Popular Private Brands:
jcpenney's private brands are all designed, developed and sourced by the Company's in-house trend and design team of more than 200 talented and experienced professionals. The trend team travels the globe identifying trends, and the designers use the trends to create merchandise with the unique needs and aspirations of jcpenney customers in mind.

The Company's most recognized and desired brands provide customers with on-trend merchandise for every season, including skinny jeans in an array of colors from The Original Arizona Jean Co., plain and detailed jeggings from Uproar, tutus for the girly girl and cheerleader skirts for the active girl from Total Girl, as well as nature-inspired earrings, rings, charm necklaces and hair accessories to polish every look from Decree.

Exclusive Brands:
Collaborating with some of the most renowned names in the fashion industry, jcpenney is also the destination for exclusive designer brands including Olsenboye, designed by Mary-Kate Olsen and Ashley Olsen as well as I "Heart" Ronson designed by Charlotte Ronson. These designer brands give customers access to runway fashions at affordable prices, including Olsenboye's faux leather shorts and floral handbag and I "Heart" Ronson's floral dress and cardigan.

And, just in time for the important shopping season, jcpenney's newest exclusive brand Stardoll is turning virtual fashion into a reality for tech-savvy girls. Featuring a mix of trendy apparel and accessories for girls sizes 7-16, the first collection provides tweens with the first-ever opportunity to wear the stylish clothes formerly only available virtually on Stardoll.com. The brand's candy-colored array of tops and bottoms adorned with girly embellishments suchas sparkling glitter and 3-D appliques make it easy and affordable to mix-and-match pieces for multiple "glam" looks.