ITOCHU signs exclusive contract with Nina Ricci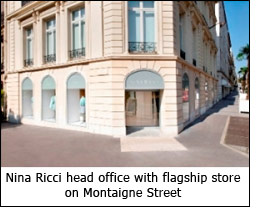 ITOCHU Corporation announced that it has concluded with renowned Paris design house Nina Ricci S.A.R.L. a contract for exclusive rights to import and sell Nina Ricci brand products, along with master license rights in the Japanese market. Under this contract, ITOCHU will handle a comprehensive range of Nina Ricci products.

With regard to importing, ITOCHU will begin marketing imported Nina Ricci brand products via the CORONET CORPORATION, starting with the 2012 Spring-Summer Collection.

Founded in 1932, Nina Ricci S.A.R.L. of France is a well-established design house affiliated with the Puig Beauty and Fashion Group, a major Spanish perfume company. Founder Madame Nina Ricci aimed to create haute couture that accentuates the wearer's individual character. Rather than making drawings, Ricci would cut cloth in line with customer's needs while fitting them. Nina Ricci's works became synonymous with femininity.

Her son Roberto Ricci later became responsible for managing the company and established the perfume division in 1946. In 1948, he launched L'Aire du Temps, the masterpiece of Nina Ricci perfume, thus completing Nina Ricci's comprehensive world view.

Nina Ricci S.A.R.L. is headquartered on Montaigne Street, the heart of fashion in Paris. The head office has an accompanying flagship store offering ready-to-wear items, bags, shoes and accessories, disseminating the brand image of Nina Ricci to the world.

Starting with the 2010 Spring-Summer Paris Collection, the company appointed Peter Copping, a former senior designer of Louis Vuitton, as its creative director. In passing down Nina Ricci design to the contemporary generation, Copping applies his own tailoring techniques while retaining the Nina Ricci philosophy, pursuing pure femininity through simplicity.

In Japan, Nina Ricci brand products were previously handled based on importing and licensing. The market size including both imports and licensing was around \7 billion in terms of retail price.

Under the exclusive contract with Nina Ricci S.A.R.L. in terms of both imports and licensing, ITOCHU will realize synergy based on its accumulated expertise and achievements in the brand business.

Ladies' wear imported and distributed by Coronet will be sold at department stores, specialty stores and multi-brand stores. Sales are planned to expand to \1.5 billion in terms of retail price over five years.

In the license-based business, ITOCHU plans to sell black formal attire, ladies' leather items, ladies' handbags, ties, handkerchiefs, jewelry, gloves, umbrellas, towels, optical frames, sunglasses and bed linens. ITOCHU will also add men's bags, leather items and belts, ladies' and men's pajamas, socks, stockings, wedding dresses and other goods. It is planning to increase sales to \8.5 billion yen in terms of retail price over five years. ITOCHU will thus establish a comprehensive image of Nina Ricci through imports and a license-based business, aiming at sales totaling \10 billion. The company will also aim for further market expansion as a top luxury brand, with a view to opening a flagship store in three or four years.