Woolrich to enhance spring apparel with Agion's technology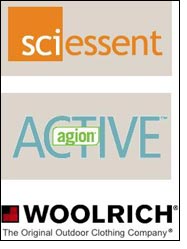 Sciessent, makers of Agion Active announces that is expanding its offering of garments with Agion Active odor elimination technology for Spring 2012. Following a successful launch of a base layer program with the dual action technology earlier this year, Woolrich is introducing the men's Destination, Territory and Tidal shirts and the women's Poly Merino Henley line. Agion Active odor elimination technology delivers social confidence to consumers who want to stay fresh while engaged in their favorite activities. When wearing Woolrich shirts with Agion Active, consumers can feel confident knowing they are not offending with unpleasant body odor.

"Agion Active performs better than any other anti-odor solution that we've tested and its performance was key in the success of our initial base layer launch," said Brent Hollowell, Woolrich VP of Marketing. "As more outdoor enthusiasts continue to become savvy about performance features, odor elimination tops their list of demands. By offering Agion Active, we can give our customers the classic style and comfort they've come to except from Woolrich, with the added benefit of a high tech odor eliminator that ensures freshness."

Agion Active features a dual action technology that not only provides antimicrobial product protection and industrial-strength odor elimination, but also controls vapor based odors. Silver ion antimicrobial technology stops propagation of odor causing bacteria on the fabric, while a natural, proprietary odor-trapping solution captures molecules from ambient odors and regenerates in the wash. Unlike odor control currently at market, Agion Active handles odor from 14 mechanisms, achieving performance well beyond what has been offered to the consumer to date. Agion Active continues to perform for the life of the garment, with the odor absorber regenerating with each wash. The finish is long lasting, performing to 50+ washes.

"We are excited to expand our partnership with Woolrich, one of the most authentic and respected brands in the outdoor industry," said Paul Ford, chief executive officer of Sciessent. "We are thrilled to play a part in Woolrich's successful foray into high performance apparel."

The Woolrich garments with Agion Active offer additional performance features including comfort shoulders for ease of mobility and side vents, making them ideal for active and light sport. The Woolrich shirts with Agion Active will be available in spring 2012 at select retail locations and Woolrich.com.

Sciessent, located in Wakefield, Mass., is a leader in providing customized solutions that enhance the value of partners' products. Sciessent's Agion and Agion Active brands have been incorporated into a wide range of consumer, industrial and healthcare products, including cell phones, shoes, keyboards, water filters, medical catheters and ice machines. Sciessent's customers include many leading brands such as Dell, Woolrich, Motorola, Columbia, Adidas, Carrier and DuPont.