Garment sector continues to recover, 26th Synthesis Report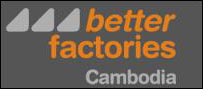 The International Labour Organization's (ILO) Better Factories Cambodia releases its 26th Synthesis Report on Working Conditions in Cambodia's Garment Sector, which assesses compliance with Cambodian Labour Law and international labour standards in exporting garment factories.

The 26th Synthesis Report reflects compliance data completed between November 1, 2010 and April 30, 2011. Within the six-month monitoring process, 186 of total 276 factories registered with Better Factories Cambodia programme had been monitored.

The 186 factory monitoring reports contain a range of information, including information on factory size across the industry, as well as comparative data on compliance with fundamental rights and selected working conditions to facilitate tracking of compliance levels over time.

According to the data from the Ministry of Commerce (MoC), from January to June 2011, 324,476 workers were employed in 286 registered exporting garment factories. There had been 26 new garment investment approved in the first half of 2011. Based on the MoC's data, garment exports rose by 32 percent in the first six month of this year compared with the same period of 2010, Compliance levels generally remain high, although some areas of concern remain, particularly regarding discrimination, overtime, and occupational safety and health.

The number of strikes following legal requirements before going on strike also remains a concern.

Among the key findings in the report are the following:

• Three quarters of the workforce is employed in factories with 1000 or more employees, even though most factories being monitored employ less than 1000 workers.
• 76% of the factories monitored have at least one union, up 3% from the 25th Synthesis Report.
• The percentage of factories that discriminated against workers is at 13%, up from 8% in the last report; the percentage that engaged in anti-union discrimination is at 3%, down from 5%; and the percentage that interfered with workers' right to freedom of association is at 2%, down from 4%.
• Monitors found no evidence of forced labour; no workers were confirmed to be below the legal working age of 15.
• 21% of the factories monitored had strikes, up from 13% in the prior report. A general strike for higher wages that took place in September 2010 accounts for some of this increase.
• Compliance with minimum wage requirements for regular workers is still high (97%), although this is down slightly from 99% in the previous report. In factories employing casual workers, the level of compliance with minimum wage payments for those workers is at 79%, down from 89% in the last report.
• 97% of factories provide 18 days of annual leave per year, either as time off or cash compensation. Compliance with maternity leave payments increased by 18%, to 73%, while compliance with paid sick leave dropped by 2%, to 77% when compared to the prior report.