AAFA submits jobs plan to White House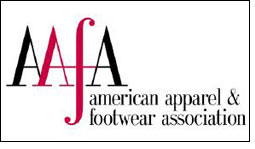 Ahead of President Barack Obama's major speech on his plan to reverse our nation's high unemployment rate and rebuild our struggling economy, the American Apparel & Footwear Association (AAFA) submitted a strategy for White House consideration that will create and sustain well-paying jobs for hardworking Americans within the U.S. apparel and footwear industry.

This strategy includes reforming the government procurement process, opening markets to meet ever-changing business challenges, reducing regulatory burdens that hinder innovation, and acting on other measures that will drive American competitiveness in an increasingly complicated global environment.

"The U.S. apparel and footwear industry is a driver of jobs," said AAFA President and CEO Kevin M. Burke. "All around the country, our industry offers some of the world's most diverse and well-paying employment opportunities. While we're always looking to grow that employment base, sometimes we need Washington to develop timely new policies to keep us competitive worldwide."

"We have identified four simple themes that, if quickly acted upon, will generate jobs here at home within our industry," Burke said. "By improving the way the Department of Defense procures military uniforms and footwear, opening global markets, eliminating burdensome regulations, and smartly reforming the tax code, the U.S. apparel and footwear industry will be able to support our more than one million current U.S. jobs, as well as find opportunities to grow that number."

Like many industries, the U.S. apparel and footwear industry faces unprecedented challenges as a result of the weakened economy. During a downturn, consumers tend to cut back on the purchase of new clothing and footwear. While the industry continues to weather this economic storm, AAFA has highlighted a number of legal, regulatory, and other governmental challenges that if resolved, would empower this industry to offer better goods for lower prices, expand the industry's customer base and create jobs here in the United States.

Department of Defense Procurement Reform
Each year, the U.S. military spends more than $2 billion on uniforms, camouflage, gear, and combat footwear for U.S. servicemen and women. Under the Berry Amendment, which requires that all combat apparel and footwear worn by troops be completely produced within the United States, the U.S. apparel and footwear manufacturing base has the privilege of outfitting American servicemen and women.

In recent years, however, domestic manufacturers have lost significant market share because of unfair preferences to federally-incarcerated inmates through a government-run corporation known as Federal Prison Industries. As it pertains to the procurement of DOD Clothing & Textiles, FPI's preference needs to be limited so as to provide more jobs and opportunities for the U.S. domestic manufacturing base.