Sofia by Sofia Vergara collection for Kmart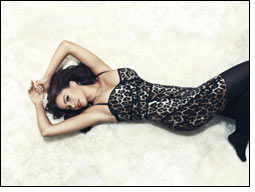 As the brand new Sofia by Sofia Vergara collection for Kmart hits stores this fall, so does its fun and innovative advertising campaign featuring Vergara's boundless energy, great sense of humor, and bold style. Just like the collection itself, the print and television ads were designed with real women in mind who want to feel confident and sexy- women who, as the tagline says, "Work What You Got."

"The whole idea was about channeling Sofia who has this fabulously distinct and infectious confidence. She's sexy and gorgeous for sure, but she's also got this tremendously funny, non-seriousness about her which we wanted to make sure not to lose in the campaign," said Courtney Vincent, associate creative director of advertising firm, Peterson Milla Hooks (PMH).

The print campaign, shot by famed photographer Norman Jean Roy, was captured in an intimate indoor setting, a brownstone in Brooklyn, N.Y., which lent a warm and personal tone to the photos. Clad in highlights from the collection, Vergara posed throughout the private home with key direction from Roy to ensure each shot conveyed both the essence of her character and collection.

The commercial spots took a different route and emphasized the versatility of the collection by utilizing advanced digital technology to feature Vergara morphing into women of different body types. Each woman lip synced to Vergara's voiceover track while projecting her confident and sexy persona.

"The introduction of the Sofia by Sofia Vergara collection represents a significant milestone in our continued commitment to make Kmart a fashion destination," said Robin Creen, chief marketing officer of Kmart Apparel. "As we work to create greater relevance among a young, fashion-conscious customer, we're focused on not only brands but messaging that will engage that audience. We believe the new ads embrace Sofia's universal appeal and style, and leverage evolving technology and media in a way that speaks meaningfully to a contemporary customer."

During filming, the camera and performer were in slightly different places which made it necessary for each actor to be carefully separated (or "rotoscoped") from the featured backgrounds. The backgrounds were then seamlessly blended together and the isolated performers "re-composited" back into the scene. Each body position, performer, timing, and action was unique and thus required the development of its own technique to achieve the needed seamless and tactile transitions.

In addition to talented actors and a complicated editing process, the commercial required a very specific type of director with a combination of skills not readily found in the ad world. The team needed a director who had a great fashion eye, an appreciation of humor, and an understanding of visual and special effects. They were able to find all of these qualities in director Michael Gracey, who came to the project with outstanding experience in visual effects for a variety of films and television programs.