Fabric Flavours to create Zodiak's Little Princess range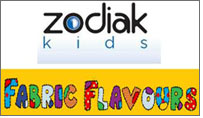 Zodiak Kids, Zodiak Media Group's children's production and distribution arm, is delighted to announce the launch of a Little Princess live theatre tour from February 2012.

Award-winning family entertainment and West End producers M4 Entertainment Ltd, BOS Ltd and PW Productions Ltd will present the UK theatrical premiere of Little Princess I Want to Celebrate! in a five month tour of major UK theatres.

Adapted and directed by leading children's TV and theatre writer Miranda Larson (Thomas and Friends, Fireman Sam ) Little Princess – I Want to Celebrate! will star all of the favourite characters from the hit TV series and books. The theatrical production will feature a highly talented cast and puppeteers for Scruff and Puss.

In Little Princess – I Want to Celebrate! the Kingdom is brimming with excitement as it seems everyone has something to celebrate on a very special day. King, Queen, Admiral, General and even Chef and Maid have all invited Little Princess to tea, and Little Princess has said yes to everyone, even though she cannot possibly be at every party at once. Children will be invited to join in with Little Princess, Puss, Scruff and all her friends as they discover the best ways to celebrate together.

Zodiak Kids has also concluded a deal with Fabric Flavours Ltd. to produce a Little Princess apparel range. Fabric Flavours who supply both independent boutiques and fashion markets, will create a range of Little Princess T shirts and nursery wear for launch later this year. Fabric Flavours' clothing appeals to both kids and adults alike, given the premium quality of their garments, and are renowned for bringing best-loved characters to life. Other licenses include The Very Hungry Caterpillar, The Gruffalo and Mr Men.

Jennifer Lawlor, SVP Consumer Products, Zodiak Rights comments: "We are thrilled with how the Little Princess brand is performing. We are excited to be working with Fabric Flavours on the roll-out of our very first apparel range which will be in stores later this year, and the new theatre production brings Little Princess even closer to her fans. 2012 is set to be an exciting year for the brand with a new Aurora plush range launching and more announcements to come."

The Little Princess brand is going from strength to strength. The recently launched app Little Princess - I want to Play! already holds the position of one of the top 10 kids apps in the UK.

Internationally, Little Princess calendars will launch in Germany and Panini will include dedicated Little Princess pages within their compilation magazines published in France and Germany. Zodiak Kids recently appointed three agents in Germany, Asia and Australia and New Zealand. m4e Group will represent the brand in Germany, Empire will represent the brand in Asia across all categories excluding publishing and DVD, while Merchantwise is the appointed licensing partner in Australia and New Zealand.