Vivid wintery styles arrives in Max stores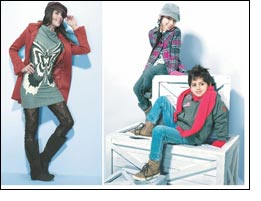 As winter knocks the door, Max has launched a vivid wintery wardrobe allowing everyone to make a style statement while staying stylishly warm this season. Inspired by the latest international trends, Max has come up with a complete collection portraying varied flamboyant designs, colours and patterns for the whole family.

Women collection (Western):
In keeping with its woman customer's preferences to merge fashion with warmth, the Max Hi-Winter collection entails an assortment of silhouettes ranging from trendy jackets to tees to sweaters inspired by a host of themes such as Scandinavian, Evening tea party, Wall paper floral, Bohemian and Vintage Portobello.

The silhouettes are trendy while flaunting the curves indicating a perfect amalgamation of style, comfort and warmth. A wide range of ponchos, capes, throws, sweaters, jackets in varied patterns and shapes have been introduced. Tees comprises of ruched sleeves and hem, knotted hem and turtle neck printed tees.

One can get warm and cozy with exaggerated cowls of sweater dresses, jackets with inflated sleeves, printed dot, chequered long trench coats, mohair soft sweaters etc. The bottoms with style - pleated bottoms to Scandinavian stocking or Scottish tights are a rage this season.

The collection plays with a wide palette of winter colours that brings out the fun and frolic element in spite of being rustic and wintery such as ochres, olives, black, wine, greys to deep pinks, oranges, bright purple, blood reds etc...

Ethnic:
Max ethnic wear presents a delightful winter collection that is comfortable and chic for all those who believe in classy ethnic fashion. A wide variety of fabrics ranging from wool blends to acrylic viscose to 100% cotton have been introduced to offer the right amount of warmth for every degree change in weather.

A range of cardigans and 100% cotton sweaters in vibrant colours and textures is being launched for the young college girls who can pair with the fusion ensemble or slim fit tunics.

A special range of winter tunics, flat knit kurtas, corduroy kurtas have been added that is further accentuated with engineered striper fabrics, traditional motifs, fashionable necklines, liberal use of laces / trims and expensive jacquard looks.

To create a complete ethnic winter ensemble, Max has also introduced Reversible Quilted jackets have been in 2 lengths that can be worn over kurtas, knitted stylish stylised leggings and shawls that can be paired with kurtas and jamavars.

Men's collection:
A trendy mix of casuals, formals, semi-formals, sports & denims have drawn inspiration from themes like Gothic survivor, Comic outburst, Moto spirit, Old school reunion, Techno station etc.

A wide palette of winter colours gives one loads of possibilities of mix n match & layering with sweat-shirts, jackets & sweaters to choose from for young and middle aged.

The options for casuals and sports are endless with the new assortment of reversible jackets and full sleeve shirts, casual and knit blazers/ jackets, double layered shorts, shawl collar sweaters, double band jeans, jogger denims, sports sweater, flat knit tees etc..