Carvico & Jersey Lomellina combine on 'Life Cycle Control'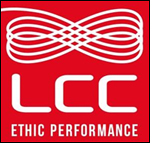 By the "Life Cycle Control" project Carvico and Jersey Lomellina consolidate their role as pioneers in the mission of finding new production and distribution processes which, thanks to their quality, can at the same time be efficient and respectful of our environment.

The premiere of this collaboration was presented at Mare di Moda in Cannes.

Such project stems from a culture of awareness and sustainability that has always characterized the activity of both companies, which, over the past 50 years have turned into one of the biggest names in the national textile market, specializing in the research of cutting-edge technological solutions, coherent with their ethical code, and leading to a more sustainable, eco-friendly production.

The LCC project - Life Cycle Control – is meant to be the most suitable response to the market demand for more social awareness and responsibility. The LCC is based on the use of recycled raw materials and on the reduction of wastes due to the deployment of human, technological, financial and professional resources destined to the creation of sustainable fabrics for swimwear, underwear, sportswear and outwear.

Our style and philosophy are supported by relevant figures: 20 million litres of harvested rainwater, 300.000 kwh of energy and 135.000 Sm3 of methane saved in one year, along with a reduction by 20% in the CO2 emissions per each Kg of fabric against the figures related to 10 years ago (ETS Kyoto).

In addition to this, we have reduced emissions to values ten times lower than those set by the law, decreased wastes by using recycled raw materials, cut down on packaging volumes and recovered non hazardous wastes.

We have also recently tested a heat recovery system, aimed at reusing the heat coming from the production process in order to feed the heating system of the offices, the dressing rooms, the dying and knitting departments, the colors lab and the maintenance workshop.

By implementing such system the companies intend to reduce by 50% the consumption of methane gas currently used to heat up the aforesaid premises (112.800 Sm³ in 2010) preventing 100 Ton/year of CO2 from being given off into the atmosphere.

Carvico and Jersey Lomellina's main aim is currently to "manufacture" a better future, and in close collaboration with Aquafil – a leader in the production of man-made fibers – have developed Econyl, a new Recycled Hollow Polyamide which is ideal for the production of new generation fabrics.

Econyl is derived from post consumer, discarded products such as fishing nets, voile and fluff ( from old carpets ) otherwise destined to the garbage dump, which are first turned into a new polymer and then into a new yarn to be employed in the production of ultra light, comfortable, high performance fabrics.

Taking materials away from the garbage dump to give them a new life: a simple and feasible principle that is bound to have a significant impact on the environment thanks to a different way to exploit waste materials, which are not intended as a problem to be solved but as a possible solution to the problem.