Delhi fashion gala marks M&S' tenth anniversary in India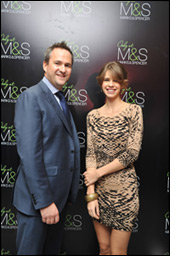 Marks & Spencer celebrated its tenth year of trading in India with a special fashion gala unveiling its latest winter collections at its Connaught Place store in Delhi.

Bollywood actress Kalki had joined Marks & Spencer Reliance India CEO Martin Jones and his team to mark the occasion with an exclusive catwalk show. Over 200 guests attended the gala which showcased this season's latest looks and must-have pieces from across M&S' popular clothing brands. Some of the well known faces comprised Mrs. Neila Devi Kapoor wife of late Mr. Shammi Kapoor and prominent models like Sachin Khurana, Himani Thapa and Kajal Srivastava.

Speaking from the Connaught Place store, Martin Jones said: "The last decade has been an incredible journey for Marks & Spencer in India and we're delighted to mark this important milestone in Delhi where we started 10 years ago. Tonight we've been able to celebrate how far we've come by showcasing the very best of our fashion collections, in one of our newest stores. We're continuing to grow our business in India and are looking forward to the next 10 years and beyond."

Some of this winter's most fashionable outfits were modeled by Kalki, who headlined at the catwalk show. Kalki said: "It's been a pleasure to be part of M&S' tenth anniversary celebrations tonight. When I look for style and quality, Marks & Spencer is the first brand that comes to mind. I've been an M&S customer for many years now and I love the latest fall winter collection, especially the Limited Collection."

Kalki Koechlin wore M&S Limited Collection, a fashion focused range that is always first with the key catwalk trends of the season. Both her looks were highly appreciated and applauded by the fashionistas and the guests present at the show. These edgy, desirable and confident pieces have all the buzz and anticipation of a girls' night out.

Marks & Spencer in India
M&S started trading in India in December 2001 with its franchise stores in Mumbai and Delhi.

To accelerate its growth in the market, M&S signed a joint venture partnership with Reliance Retail in 2008. The partnership has transformed M&S' position in India, opening larger stores and realigning its prices through local sourcing. M&S sources 52% of its products from Indian suppliers, which also enables products to be tailored to suit local customers.

M&S has 23 stores in India and in the last year opened new store formats including its first high street store at Connaught Place and its first airport store in India at Delhi T3. M&S continues to grow its presence in India, with a further four stores planned to open this financial year.

High quality, stylish fashions
Over the last 10 years, M&S has opened further stores across India offering an extensive range of quality fashion and accessories across womenswear and lingerie, menswear, kidswear and beauty.