Nike introduces new performance design for Oregon Duck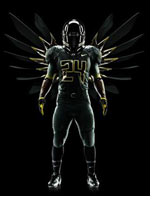 Nike will celebrate the Ducks' return to the Rose Bowl with the debut of its latest Nike Pro Combat system of dress – the most advanced football uniform system ever assembled.

This fully integrated uniform system, debuted in its first iteration by the University of Oregon during last years' BCS National Championship Game, incorporates the pinnacle in performance innovation and design from the world's most renowned athletic outfitter.

The new uniform provides enhanced thermoregulation and more durability with the inclusion of Nike Chain Maille Mesh – a lightweight ultra-breathable material – used in both the jersey and pant.

While the uniform certainly makes the team more recognizable, it's their commitment to innovation and building better athletes that allows the University of Oregon to take its place among the nation's most elite programs.

"Nike's relationship with the University of Oregon represents a forward-thinking approach to innovation and design. Our goal is to help build better athletes by providing them with state-of-the-art-innovation combined with a deep knowledge and understanding of their heritage" said Todd Van Horne, Nike's Creative Director for Football.

The latest Nike Pro Combat system of dress uniform delivers more on-field performance benefits than ever before while pushing the limits on creativity and design. The Oregon Ducks truly represent Nike's approach in developing athletes from the inside-out."

"Oregon represents the gold-standard when it comes to merging science and innovation with athletic performance and we are excited to continue our partnership with Nike by unveiling the next iteration in uniform innovation for the Rose Bowl" said Oregon Ducks Head Football Coach Chip Kelly. "Nike always starts by listening to the voice of the athlete as they continue to bring the most intuitive technology to the game."

INNOVATION
From the cleats to the base layer, to the gloves and helmet, the Ducks' uniform represents the pinnacle in game-day innovation for speed. New this year is the development of Nike Chain Maille Mesh technology, the ultimate in breathable uniform design. These innovations coupled with durable, lightweight padding provide athletes with a complete on-field suit of armor. Performance benefits include:

• Eleven different materials in the Nike Pro Combat uniform (jersey and pant), and 16 different materials in the complete system of dress – each to address the specific needs of the athlete in game situations

• Nike Chain Maille Mesh material incorporated into the back and under the arms in the jersey, as well as down the sides of the pant for exceptional ventilation without sacrificing durability. The new Nike Chain Maille Mesh integration also emphasizes improved thermoregulation, including the Nike Pro Combat Deflex padding layer, which is constructed with fabric selected for its ability to help keep the body cool and wick away sweat – making the uniform, and player, lighter and dryer.