LOFT brand delivers outstanding results in Q4 - Ann Inc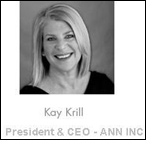 ANN INC announced that, based on weaker-than-anticipated fourth quarter performance in the Ann Taylor stores channel, the Company expects to report results for the fiscal fourth quarter of 2011 that will be below expectations.

In addition, the Company announced that it has named ANN INC. veteran Brian Lynch to the position of Brand President of the Ann Taylor Division. Mr. Lynch, who has been with the Company since 2004, was formerly President of Ann Taylor Factory and LOFT Outlet, and led the e-commerce channels for both brands.

Based on preliminary results, the Company is also providing the following update to the fiscal fourth quarter outlook it provided on November 18, 2011, as follows:

-Total Company net sales for the fiscal fourth quarter of 2011 are expected to be $566 million.
-Total Company comparable sales for the fourth quarter of 2011 increased 5%.
-At Ann Taylor, total brand comparable sales decreased 1%, reflecting a decline of 11% in the Ann Taylor stores channel, partially offset by an increase of 28% in the Ann Taylor e-commerce channel and a 6% increase in the Ann Taylor Factory channel.
-At LOFT, total brand comparable sales increased 11%, reflecting increases of 8% in the LOFT stores channel, 28% in the LOFT e-commerce channel and 10% in the LOFT Outlet channel.
-Gross margin rate for the Company is expected to be 49.0%, primarily reflecting a significantly higher-than-anticipated promotional cadence in the Ann Taylor stores channel.
-Selling, general and administrative expenses are estimated to approach $275 million, including approximately $5 million of one-time costs related to the management realignment.
In addition, during the fiscal fourth quarter, the Company repurchased approximately 3.1 million shares of its stock, totaling approximately $75 million.

Kay Krill, President and Chief Executive Officer, said, "We are disappointed with our fourth quarter results in the Ann Taylor stores channel, but are pleased that the brand's online and factory channels continued to deliver strong results. Importantly, our LOFT brand delivered outstanding results across all three channels, reflecting very positive client response to LOFT's product offering during the quarter.

"Overall, our strategies to deliver profitable growth in 2011 resulted in a more than 25 percent increase in earnings per diluted share on a 12 percent increase in total net sales, compared to 2010. Looking ahead to fiscal 2012, we have entered the Spring season with inventories well positioned at both brands, and we look forward to capitalizing on the opportunities to continue our profitable growth and improve performance in the Ann Taylor stores channel in the coming year."

In commenting on Mr. Lynch's appointment, Ms. Krill stated, "Brian has driven outstanding results across diverse businesses, channels and responsibilities at ANN INC. over the past 8 years. I am confident that, under his leadership, the Ann Taylor brand will grow and deliver increased productivity and profitability."