'Flirt' really works in Munich!!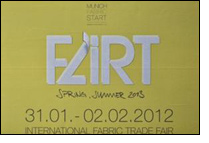 The radiant, optimistic yellow tone chosen as a trend and guiding colour by MUNICH FABRIC START this season not only conveyed positive energy to visitors and exhibitors alike amidst the ice-cold Munich winter. These also delighted at the increased footfall, trade visitor quality, diverse programme of trend lectures, panel discussions and events and, last but not least, the smooth operations and top-class service over the three days of the exhibition from 31 January to 2 February.

This time some 800 exhibitors from 36 countries presenting their additionals and fabric collections for the 2013 Spring/Summer season on just under 50,000 square metres along with the pleasant, relaxed working atmosphere plus an "all-inclusive" package of trend information, factual discussions and industry get-together attracted some 17,600 visitors to the Isar – 4% over the previous year.

In addition to the entire Germanspeaking fashion industry gathering here twice a year, the proportion of foreign visitors has also seen a continuous rise. Even buyers from Australia made it to Munich all the way from Down Under.

Yet trade fair organisers Sebastian and Wolfgang Klinder and Frank Junker were delighted with the quality even more than they were with the quantity of visitors. M,O,C, exhibition halls and the Zenith Hall welcomed names like C&A, H&M and Marks & Spencer to Mustang, Drykorn, Marc O'Polo, Tommy Hilfiger and Mac not forgetting Hugo Boss, Jean Paul Gaultier and Armani. "I am a fan of MUNICH FABRIC START. We are represented with over 50 teamsters here," said the creative boss of Boss Black, Kevin Lobo.

This year's motto "Flirt" and the trend colour Lemon Tonic, omnipresent throughout the exhibition halls, reflected the positive mood in the sector And now that raw material prices and related discussions have at last calmed down, a focus on essentials i.e. trends and themes is now possible again.

The lavishly designed Colour Forum in the foyer, the trade fair's colour card as well as the new "Colourcode" with correspondingly dyed trend yarns were all increasingly used as a source of inspiration. Additional information came care of renowned publishers and trend agencies like Mudpie, Trend Union, Peclers Paris and View, pooled in the Trendlab, as well as from a great number of lectures and roundtable discussions held at different locations over the three days of the trade fair.

The kick-off event was organised by MUNICH FABRIC START in cooperation with the new trend book Molecule at the Spiegelsalon on the Zenith premises on the first evening of the trade fair. Among others certified psychologist, market researcher and CEO of the market research institute Rheingold, Stephan Grünewald, philosophized very entertainingly on how consumers "work". He has identified six trends in times of crisis: consumption carnival, the new power to act, bargain hunting, performance increase, the restoration of citizen values and finding refuge in one's home country and region. In his view consumers are longing for an ideal, carefree world.