Zimmerli from Switzerland opens store at KaDeWe, Berlin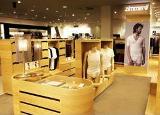 The opening of the world's first brand corner of Zimmerli takes place at KaDeWe department store in Berlin.
The gents collection with day and nightwear such as loungewear sis available at KaDeWe.
The interior design for the brand corner was designed by Iria Degen Interiors, Switzerland.
In 1871, Pauline Zimmerli Baurlin began as a self-taught woman with machine manufacturing hosiery and mens socks in Aarburg, Switzerland.
Zimmerli