ELLE Fashionwear debuts exquisite lace & chiffon outfits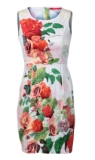 Indulge in a fashion rendezvous this season with ELLE French Fashion Wear's new collection now available at stores across the country. This season is all about drama, color and comfort and being true to its Parisian roots, the line highlights the feminine and dressy brand image with each of its outfits designed to entice and charm oneself.
Synonymous with glamour and the latest trends, this collection brings to one designs straight off Euro runways where bold patterns and bright colors dominate the ramp.
Brighten up the mornings with the exquisite range of lace and chiffon attire which will transport one to a land of soft and muted glamour reminiscent of fairy tales. Vivid neon colors and vibrant motifs bring out the elegance and beauty ideal for a lazy afternoon Brunch with the girls. Spruce up the night with the glam chic look which promises to make one feel sexy yet sophisticated with a hue of bright colors, sexy back detailing and exuberant prints.
About ELLE Fashionwear
ELLE fashionwear is a French fashion brand that retails women's clothing, shoes and bags. In India, for ELLE, Arvind Lifestyle Brands has entered into a license contract with the French Group 3 years ago through Lagardère Active Enterprises, the dedicated business unit of the Lagardère Active Group running the brand extension worldwide.
ELLE Fashion Wear