Court confirms Elbit's Plaza Centers restructuring plan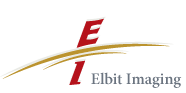 Elbit Imaging Ltd. announced following its announcement dated June 26, 2014, that Plaza Centers N.V. ("Plaza"), a public company listed on the London Stock Exchange and the Warsaw Stock Exchange in which the Company holds directly and indirectly approximately 62.5% of the outstanding shares, and following the confirmation hearing held yesterday, that the Dutch Court has confirmed Plaza's restructuring plan.
This follows Plaza receiving approval from 92% of creditors voting in favor of the Plan.
The Plan together with a prospectus detailing the proposed amendments to the terms of the Israeli Series A and Series B bonds, as well as other provisions applicable to the relevant creditors, is available to view on the Plaza Centers website.
About Elbit Imaging Ltd.
Elbit Imaging Ltd. operates in the following principal fields of business: Commercial and Entertainment; Hotel operation and management; Medical Industries and distribution and marketing of fashion apparel and accessories in Israel.
Elbit Imaging Ltd