VAUDE features Ergonomic suspension system in Winter Collection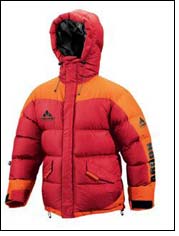 Starting 2009 VAUDE and the first climate neutral mountain and skiing school in the Alpine Region, Vivalpin, are actively advocating sustainability in mountain sports together. By an official cooperation VAUDE and EDELRID are closely linked with Vivalpin.

VAUDE Climbing Mountain
The family theme park Ravensbuger Spieleland in south Germany will be introducing a new alpine Adventure Camp created around the "VAUDE climbing mountain" with "mountain" attractions for summit explorers large and small.

VAUDE Mountain Sports Argon Lithium Jacket – Extreme Warmth
The Lithium extreme down jacket was specifically designed for expeditions and activities in freezing temperatures. An excellent thermal rating infused with technical solutions reduces the natural process of heat loss down to an absolute minimum.

Wolfram Gloves – Ice Tools at Hand
Whether it's ice climbing, mixed or dry climbing – with the ultimate Argon Wolfram gloves you'll have a sure grip on your ice tools. The stretchy, waterproof silicon coated palms ensure a perfect grip.

Mountain - Skitouring
Mera Peak Pants: Incognito Climbing Harness
Pants = Climbing Harness? Or: A hidden climbing harness? With the Mera Peak ski touring pants, both options are possible. Outwardly, there's no sign that these are anything more than just a normal pair of alpine pants. But when you "unpack" them, you're in for a surprise: Out comes a high tech climbing harness. The harness can be put to use at any time, such as when your route leads over a glacier or an abseil passage.

Titlis Jacket: Systemized Ventilation
When making a steep ascent in a snowstorm or bombing down the mountain in deep powder, there's one thing that everyone wants: a way to let all that hot air out of your jacket, without letting any wet snow in. VAUDE has engineered an innovative ventilation system that directs warm air outward without using any zips: we call it ChiVent technology.

Mountain - Freeride
Valdez Jacket & Pants: Powder Pros
They're constantly moving between high alpine stormy peaks and the valleys below – and in between, cooling their heels on the ski lifts or sweating it out on strenuous ascents. Clothing worn in layers is the ideal solution for freeriders. The hardshell combination Valdez Jacket & Pants.

Freeride-Rucksack Tec Rider: Ergonomic goes Freeride
VAUDE is now featuring its innovative Ergonomic suspension system in the Winter Collection. When the going gets tough in snowy backcountry, the technical freeride backpack Tec Rider 28 with the ergonomic system ensures optimal balance and stability.

Trek & Trail
Urban Outdoor: Function meets Style
The boundaries between outdoor wear and urban fashion are gradually disappearing. VAUDE combines the best of both worlds in the UrbanOutdoor highlights of the Trek & Trail Collection: "Function meets Style". The women's Amari and men's Arol jackets are cosmopolitan thanks to their alluring, fresh design – and at the same time, they're functional through and through.