NIKE introduces unique apparel system for NCAA team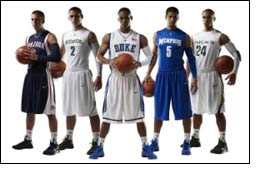 NIKE Inc introduced the ultimate apparel system for select college teams as they march into tournament madness with superior innovation from head to toe.

After enduring five months of intense competition, today's elite collegiate basketball players are battle tested. With the style of play evolving each season, Nike is introducing a 360 degree approach complete with new base layer apparel, unique uniforms and customized footwear. This approach meets the evolving needs for players demanding superior performance with a distinct look.

Nike Pro Combat Introduced
As the leader in base layer apparel innovation, Nike will outfit Duke University, Gonzaga University, The University of Memphis, Michigan State University and University of Oregon in customized Nike Pro Combat. Nike Pro Combat is ergonomically designed to provide basketball-specific protective padding without restricting mobility on the court for maximum performance.

"College basketball is a tremendously quick and physical game, and Nike is committed to giving student athletes the best gear for battle," said Nike Sport Apparel and Innovation Creative Director Todd Van Horne. "Nike Pro Combat reflects the evolution of the game and provides our college teams with quality base layer apparel they need for their tournament runs in March."

The Nike Pro Combat Deflex short provides padding over the hip and thigh, and the Nike Pro Combat Deflex elbow pad provides superior protection. Both the shorts and sleeve will showcase vibrant team colors for each of the aforementioned schools. Nike is unveiling this special edition Nike Pro Combat visual color scheme that is custom designed for each school beginning for their conference tournament.

Uniforms Evolve in March
For the first time ever, these five schools will also wear distinct Aerographic jerseys during their respective conference tournaments and run for the national championship. Using Nike Aerographic technology, an engineered mesh providing zoned cooling and dramatically reducing the fabric density, the weight of the jersey is reduced by 31 percent compared to current uniforms.

"Our new Aerographic jerseys combine superior fabrics and breakthrough graphics for a look we're excited to bring to college hoops during the tournament frenzy," said Eric Lautenbach, Nike, Inc. Director of College Basketball.

The Aerographic jerseys debuted on the USA Senior National Team during the 2008 Olympic Games. An exclusively designed "We the People" graphic, inspired by USA's rich history, was showcased on the back of the jersey.

The five NCAA team jerseys are designed to reflect the unique identity of each university. These design patterns allow more ventilation in the burn-out mesh application.

Duke University: With gothic architectural inspiration, this design was inspired by the Duke Chapel, a major campus icon that speaks to the heritage ofthe university. It also includes a rendition of the original Duke crest. Duke will be wearing this jersey in conference tournament action.