JCPenney bolsters young men's department with new stylish brands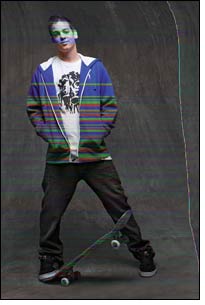 J. C. Penney Company Inc announced the launch of three new brands for young men, RS By Sheckler, Rusty surf apparel and Third Rail a Zoo York Production - all available at JCPenney's signature smart prices. Catering to the emerging action sports lifestyle, these new surf and skate-inspired brands will be available in JCPenney stores and jcp.com starting July 11, arriving in time for the Back-to-School shopping season.

"Bringing newness and innovation to our floor, these exciting new brands further connect our strong base of young customers to an emerging action sports culture," said Ken Hicks, president and chief merchandising officer at JCPenney.

"These partnerships underscore our commitment to deliver exceptional, stylish brands that respond to the needs of our customers, making aspirational surf and skate brands available at affordable prices that make sense for teens and their parents. These brands are exciting new additions to our compelling merchandise assortment, providing customers additional reasons to shop with us, and further positioning JCPenney as the leading destination for Back-to-School apparel."

The new brands will expand the Young Men's and Boy's department surf/skate lifestyle, joining JCPenney's strong collection of national, exclusive and private brands for teens such as Vans, Arizona, American Living, Levi's, Southpole, Avirex and the extension of Decree into Young Men's.

RS By Sheckler
Founded by Ryan Sheckler, professional skateboard icon and star of the MTV reality show "Life of Ryan," RS By Sheckler will feature skate-inspired graphic t-shirts, hoodies, thermals, woven tops and skate-fit denim for young men and boys. All mirroring Sheckler's signature style, the brand will be offered at JCPenney.

Although Sheckler still endorses core companies in the skate industry, he seized the opportunity to create an affordable and accessible clothing brand that embodies his everyday style. Ryan Sheckler commented, "Skateboarding is my life and skating in something comfortable and stylish is a must. Ultimately, my goal was to take the clothes that my friends and I enjoy wearing and make them available to a larger audience at a great price."

Rusty
One of the world's most renowned surf lifestyle brands, Rusty will bring its distinct style to a broader audience with a signature collection of graphic tees, shorts, boardshorts and hoodies for young men and boys. Known for its authentic surf roots, quality and innovative products, the brand will provide a fresh assortment to JCPenney customers.

"We're excited to bring Rusty's rich surf heritage to one of the nation's leading department stores," said Toby Bost, chief executive officer of La Jolla Group. "Rusty is an iconic surf brand with one of the most recognizable logos in the industry. The Rusty collection for JCPenney will offer authentic, casual beach-inspired product that appeals to a diverse,aspirational and highly impressionable young audience. We are stoked to add JCPenney to our growing list of premier retail partners."